John Albrecht
Bald Eagles and Bird Strikes
On July 15, 1996, a Belgian Air Force C-130H Hercules crashed after a massive bird strike on short final at the Dutch Air Force base at Eindhoven, Holland. Failure of three engines resulted in the port wing striking the ground beside the runway, rupturing fuel tanks and starting an immediate fuel fire in the forward fuselage. All 41 on board survived the initial crash. The flight crew endeavored to extinguish the fires and rescue the passengers but were thwarted by rear fuselage doors jammed by impact. The duty air traffic controller was aware of a significant number of passengers on board but failed to notify the fire brigade that was in the process of extinguishing engine fires. Thirty-six precious minutes after the crash and 29 minutes after the main fire was extinguished, the rear door was forced open to discover 31 dead from toxic fumes with three to succumb later - total fatalities, 34.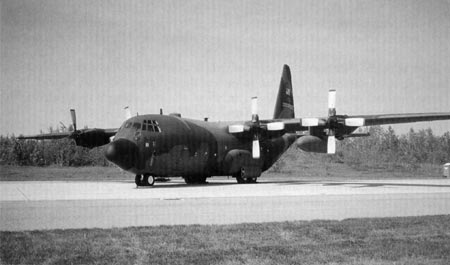 11. AC-139 Hercules, similar to the aircraft that crashed as a result of a bird strike at Eindhoven AFB in Holland on July 15, 1996; 34 lives were lost. Photo courtesy Denis Cloutier.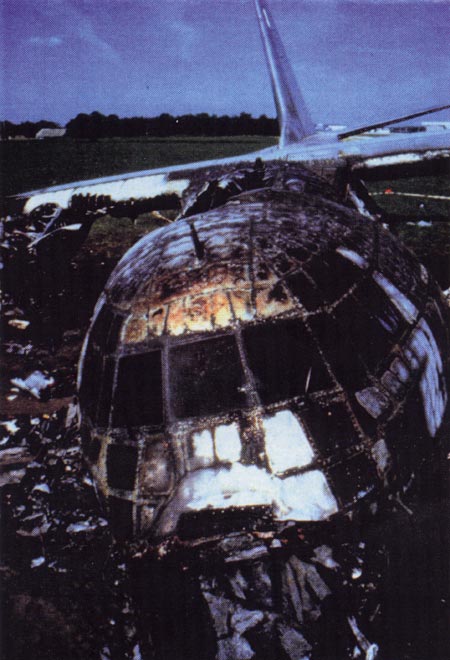 12. Plate 17. Thirty-four people died in the bird-strike related crash of this C-130H at Eindhoven AFB, Holland on July 15, 1996. Photo courtesy Transport Canada.
These three accidents exemplify the catastrophic potential of a bird strike - even to a multi-engine, turboprop or jet. It is noteworthy that in each of these, the accident may have been prevented or fatalities reduced with alternate routing or improved communication between ATC, flight crew and fire/rescue personnel.
© 2004-2021 John Albrecht