John Albrecht
Bald Eagles and Bird Strikes
The effect of a bird strike can run the spectrum from an insignificant stain to catastrophe with structural/systems failure, engine failure or windscreen penetration and pilot incapacitation - the proverbial feather sandwich. Many factors determine the severity of a strike with impact force topping the list. This force is directly proportional to the bird mass and SQUARE of impact speed, i.e., doubling air speed from 100 to 200 knots quadruples impact force and at 400 knots there is a 16-fold increase in the destructive potential. This explains the rationale of the Canadian Aviation Regulation limiting air speed to 250 knots or less below 10,000 feet MSL. Lower air speeds allow more time to see and avoid for both pilot and fowl and in the event of a strike, less destructive potential.
The majority of bird encounters occur below 3000 feet AGL with higher strikes involving larger species and greater potential for catastrophic damage. The highest recorded FAA bird strike occurred on October 23, 1991 - species unspecified, struck by a DC-8-62, altitude 39,000 feet! Birds obviously do not suffer from hypoxia at high altitudes as we meek humans.
Bald eagles are the largest species sharing our air space with the Canada Geese running a close second. The mature eagle weighs in at 8 to 14 pounds and the goose 7.3 to 13.8 pounds. The female bald eagle tends to outweigh the male. Their laid back lifestyle of towering, soaring and gliding will often bring them into our cruising altitudes. It is noteworthy that both Kyleen and myself had our encounters in cruise flight. The colour plates in "Sharing the Skies" provide sobering insight into the catastrophic sequelae following a bird strike. After viewing the photographs of a Bell Jetranger following a collision with a western grebe, I will never denigrate a chopper pilot for wearing a crash helmet.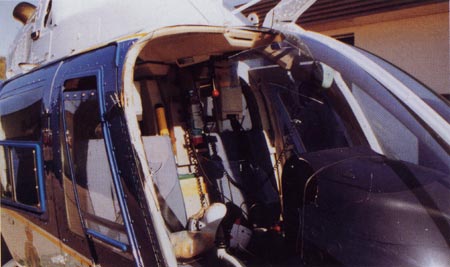 13. Plate 5. An impact with a Western Grebe (3 lbs) caused considerable damage to this helicopter. The bird struck the pilot in the face. Photo courtesy Transport Canada.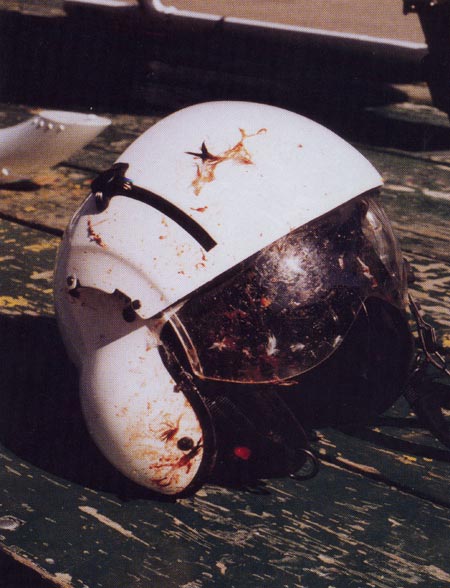 14. Plate 7. The helmet and face-shield probably saved the life of the pilot when he was struck in the face by windshield and bird debris. Photo courtesy Transport Canada.
While researching this article, one of my patients, a retired biologist, provided additional ammunition. He recounted a helicopter crash that occurred in the BC Interior that was fatal for the commercial pilot and two wildlife biologist passengers. Investigators attributed cause to collision with a bald eagle. In discussion with David Hancock, he could not recollect an aggressive act by a bald eagle while piloting a fixed wing aircraft. On the other hand, he had numerous aggressive encounters as a helicopter passenger while circuiting eagle nests.
© 2004-2021 John Albrecht