SEARCH FOR THE SOLE SURVIVOR
By John Albrecht
"Those noisy beggars!" - my grandmother admonished, waving her garden hoe skyward. Low overhead, a formation of four Maritime Command Lancasters thundered. Jockeying for position, en route to a flypast at R.C.A.F. Base Comox, a half mile to the southeast. With their passage the windows on our old house rattled in protest. It would be many years before I understood her hostility towards this noisy foursome. In reality it was not the reverberating disturbance of their passage but the fact that one of their deceased stable mates had taken her youngest son and his crew on their final trip to Berlin in March 1944. Since my youth at Comox aviation fuel has compromised a small percentage of my circulation.
My uncle, John "Jack" David Owen, joined up with the R.C.A.F. in April 1942 despite the protestations of my grandparents. After initial training at High River, Alberta on Tiger Moths he was selected as a bomber pilot and underwent multiengine training on Cessna Cranes at Claresholm. By November 1942 he had logged a total of 240 hours. After the transatlantic crossing followed a whirlwind refresher course on Tiger Moths and Oxfords. At the Operational Training Unit at Tilstock he crewed up and checked out on Whitley's, Halifaxes and finally on Lancasters. His crew was a mixed "bag", symbolic of the Commonwealth war effort:
Flt/Sgt. Frank "Spanky" B. Magee, bomb aimer, age 25, R.C.A.F.
Sgt. John "Tony" C.A.D. Lavender, navigator, age 20, R.A.F.
Sgt. Harry "Al" W. Nixon, mid upper gunner, R.C.A.F.
Sgt. Percival "Casanova" H. Simpkin, signal officer/gunner, age 22, R.A.F.
Sgt. William "Hugam" Clark, rear gunner, age 22, R.A.F.
Sgt. Wilfred "Bill" H. Broadmore, flight engineer, age 21, R.A.F.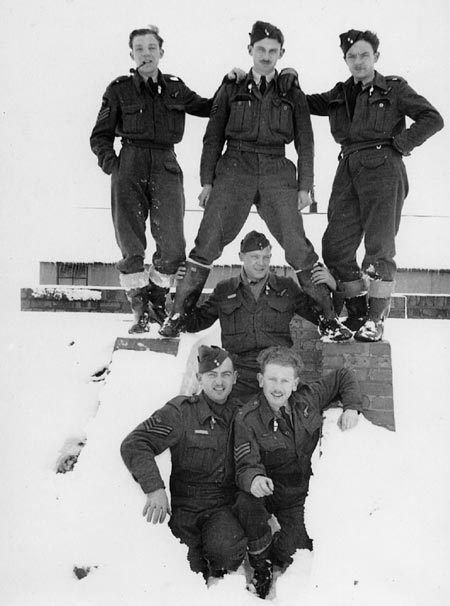 1. Crew of ND-641 - 1944. Standing L-R: Sgt. Percival Simpkin, Sgt. John Lavender, Sgt. Wilfred Broadmore. Middle: Sgt. Harry Nixon. Kneeling: W/O Frank Magee, Sgt. William Clark
© 2004-2019 John Albrecht