Dr. Yan Po (YP) So
July 6, 1932 – September 22, 2017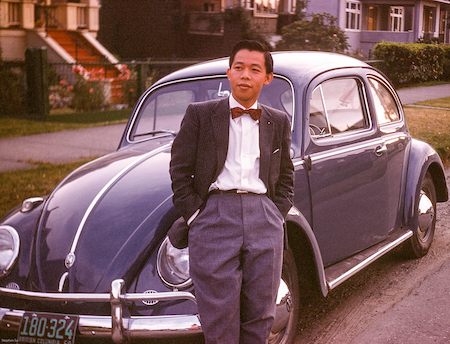 Never judge a book by its cover or a man by his stature. Despite Yan's strenuous assertions to the contrary, at no time in his life was he taller than five foot even. Packed into this diminutive frame was a human dynamo!
At the age of eighty-five he succumbed to a neurological disease in Foyer Maillard, a facility where he had served as the Medical Director for six years, comforted by his family and visited by his patients. This marked life's end of a remarkable individual and family physician whose career spanned fifty-six years…
Yan's life journey began in Hong Kong, number two of eight. After primary schooling in Hong Kong and attending Lingnan University in Guangzhou, he immigrated to Canada in 1952—relishing his tale of three weeks in ship's steerage. It took him several years to adjust to the cultural shock but this proved invaluable to his future career as a family physician.
He was accepted into the U.B.C. Faculty of Medicine, graduating in 1958—his classmates included Bill Brown, Eugene Chan, Peter Grantham, John Hunt, Pat Mcgeer and Bill Webber. Yan would not disappoint.
After interning at VGH and acquiring a mint condition VW Coach Capri (photo), he assimilated six months of trauma skills as an emergency physician at the RCH in New Westminster. More importantly he crossed paths with a rookie RN, Jean Patricia Chapman, who would prove to be a formidable match and soulmate for the next fifty-three years.
After a two year partnership in Port Coquitlam with Drs. Bob Heffelfinger and Harry Shaw at the Elgin Medical Clinic, he started a solo general practice in Coquitlam in December 1961. Thus began his amazing medical career.
Yan's success as a GP was due to his credo:
"When you sit down face to face with a patient, the patient should feel she or he is the only person important at that moment, and time should not enter into your accounting. One should never ever look at one's watch. By listening attentively to your patient's complaints, you establish rapport. That is very important to establish not only a good relationship between patient and doctor but also trust between the two parties."
For most of us this was virtually impossible to practice and remain financially viable, but his patients loved his philosophy and undivided attention.
As a result, the term punctuality almost ceased to exist in his vocabulary, practice and family life. Common were the calls to Jean that he would be late for dinner—9:00 or 10:00 PM! Bedtime vignettes ended with his falling asleep before story's end, in his work clothes 'til morning. In this milieu his practice thrived and family flourished. His practice was open to all new patients despite protestations by his staff. On one occasion, early in his practice, he made a late night house call to assess a young boy lost in the shuffle of care. The resulting diagnosis of meningitis was life saving. The extended family became lifelong patients.
During this time Yan and Jean juggled the challenges of raising Robyn, Stephen, Julie and Christopher and were justly rewarded with six grandchildren and one great-grandson, Felix.
Their granddaughter Courtney would play an important chapter in his career, fulfilling the role of his MOA for his last decade of practice! Despite infinite attempts and maneuvers she was unable to orchestrate him to start his office on time. On pressuring she did confess to his one secret addiction that necessitated punctuality—the opera. On those days, without fail, he was on time. Hopelessly romantic, he wept at every performance of Madama Butterfly!
Yan was a man of absolute dedication to two mistresses—medicine and family, in that order— yet was able to satisfy both! His secret to success was that he incorporated his family, including Jean, children and grandchildren, into the web of his practice. It was a magical formula that worked. At his memorial service it was obvious that he had struck the perfect balance between family, patients and even next-door neighbours. The impossible mix!
Despite all his other commitments he was able to find time to worship his B.C. Lion and Vancouver Canuck heroes. Yan was a consummate chef and connoisseur of fish—his sole pièce de résistance being BBQ salmon. Otherwise he couldn't make much beyond tea and toast.
Yan was always dedicated to the medical community during his monumental career. In addition to being the Medical Director of Foyer Maillard, he served for twenty years as the Medical Care Coordinator of Como Lake Hospital/ Lakeshore Care Centre. Over the years he had a special affection for Saint Mary's and Queens Park Hospitals, being an active staff member of both as well as serving numerous terms as President of Medical Staff. He was an active staff member of Royal Columbian and Eagle Ridge Hospitals. In 2004 he reluctantly gave up his maternity practice. The last baby he delivered was the third child of a patient that he had delivered. This patient was the daughter of his former MOA.
The fact that YP was a member of our on call roster was a very humbling experience. My colleagues and I always dreaded the Sunday evening changeover. Almost without exception he had discovered significant history that we were not aware of and diagnoses that we had not considered. These exchanges were never brief, demonstrating his passion for medicine, compassion for patients, painstaking thoroughness and fervour for mentorship. He knew how to keep the young bucks honest and on their toes.
So much for stature.
Yan's world was turned upside down when Jean was diagnosed with aggressive oral cancer. Despite this setback he continued full-time practice until her death in 2014. This is testimony of his dedication to his patients. In similar fashion, he managed to persevere in his hospital and office practice despite a fracture of a lower extremity. This would not have been possible were it not for his trusted MOA, Courtney, pinch-hitting as his chauffeur!
With his goals, dreams and aspirations fulfilled, he chose to retire at age eighty-two. True to form he made a house call on his last day in practice.
During his final days he was lovingly supported and cared for by his close-knit family and patients.
The loss of this amazing man leaves a warm, deep void that will be impossible to fill. He is dearly missed by his family, friends and colleagues.
Donations to the Yan P. So Award in Family Medicine would be greatly appreciated: online at memorial.support.ubc.ca/yan-so. by mail at 500-5950 University Blvd., Vancouver, B.C., V6T 1Z3, or by calling 604-827-4111.
Jack Albrecht, Burnaby, B.C.
© 2004-2021 John Albrecht