The History of 625 Squadron Losses
16/17.12.1943 No. 625 Squadron Lancaster III LM424 CF-B P/O. Donald Baker
Operation: Berlin

Date: 16/17th December 1943 (Thursday/Friday)
Unit: No. 625 Squadron
Type: Lancaster III
Serial: LM424
Code: CF-B
Base: RAF Kelstern, Lincolnshire
Location: Oppendorf, Germany
Pilot: P/O. Donald Baker 169107 RAFVR Age 20. Killed
Fl/Eng: Sgt. Clifford Robinson 1677459 RAFVR Age ? Killed
Nav: P/O. George William Frederick Batchelor 169468 RAFVR Age ? Killed
Air/Bmr: Sgt. W.H. Pallett 1393564 RAFVR Survived PoW No: 269864 Camp: Stalag Luft Sagan and Belaria
W/Op/Air/Gnr: P/O. Gilbert Ernest Adams DFC. 545003 RAF Age 23. Killed
Air/Gnr: Sgt. Kenneth Watmough 1213427 RAFVR Age 23. Killed
Air/Gnr: Fl/Lt. William Dennis Crimmins DFC. J/16533 RCAF Age 29. Killed
Updated: January 09th 2019
REASON FOR LOSS:
Taking off from RAF Kelstern at 16:21 hrs to bomb Germanys capital. Berlin. 483 Lancasters with15 Mosquitoes taking part in a bombing operation that lasted between 19:55 - 20:34 hrs.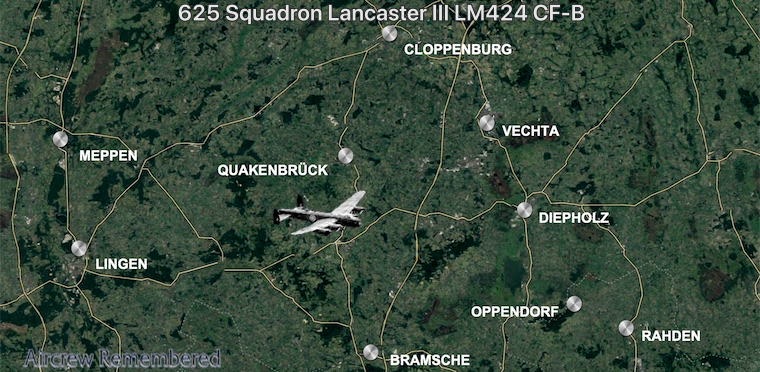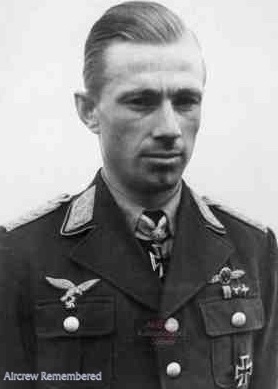 The Lancaster was attacked and shot down by Maj. Helmut Lent (1) of Stab NJG3 over Quakenbrük area (Himmelbett) at 19:07 hrs. The Air Bomber, Sgt. Pallett managed to bale out of the aircraft and came down in the Lemförde area - taken as a PoW.
(note: Theo and Rod MacKenzie are in the process of publishing their Nachtjagd Combat Archives (NCA) series, comprising 12-15 volumes, to be completed by Wingleader by the end of 2020. The volume on this loss will include additional documentation such as combat reports)
The aircraft caused enormous damage in the surrounding area - with fires spreading throughout the area. Two German villagers, 61 year old, Christoph Kalkhake and 29 year old, Heinrich Waering were killed attempting to rescue farm animals from the buildings - 19 completely destroyed, many other local villagers also injured - mostly suffering from severe burns. Shortly after the crash the main bomb being carried exploded causing further damage and a huge crater.
Another 625 Squadron Lancaster was also lost during this operation:
Lancaster III ED951 CF-A Flown by 2nd Lt. Wooley USAAF injured with 4 other crew, 2 others killed when the aircraft crashed on return at Gayton-Le-Wold in Lincolnshire.
Above: crash area of LM424 the following day - below, memorial placed in the village.
W/O. Baker and his crew were one of the original crews posted to 625 Squadron RAF Kelstern from 100 Squadron, on October 13, 1943 to form the battle hardened nucleus of the Squadron. Their first op with the Squadron was to Dusseldorf on 3.11.43 in W4993, uneventful. Sgt. R.H. Pitman was in the rear turret for this trip. The same crew flew LM317 to Modane on 10.11.43. The Battle Order for 18.11.43 took them to Berlin to drop their bomb load in 10/10s cloud. Fl/Sgt. R.W. Burke (2) joined the crew for his 'second dickie' op. W/O. Baker along with Fl/Sgt. G.W.F. Bachelor as 'second bomb aimer' (actually as navigator) returned to Berlin on 22.11.43 with Fl/Sgt. Burke (2) and five of his crew for a repeat 10/10s cloud reception. On 26.11.43 W/O. Baker and his regular crew would have an uneventful trip to Berlin in DV362. Unfortunately, their fourth consecutive op to the Big City would be a different story. They departed RAF Kelstern at 16:20 on 16.12.43 with Fl/Lt. W.D. Crimmins DFC, Squadron Gunnery Leader, in the rear turret instead of Sgt. R.H. Pitman. The ORB notes: BERLIN. Missing- Nothing heard after take off. P/O. R.H. Pitman would perish with the crew of Sq/Ldr. T.M. Nicholls in W5009 on the Nuremberg debacle of March 30/31, 1944. (submission pending)

A letter dated March 2, 1950 to Mrs. Crimmins from W/Cdr. W.R. Gunn RCAF Casualties Officer provides additional information on the crew's fate. A Missing Research and Enquiry Services (MRES) report indicated that her son's aircraft crashed at Oppendorf, fifty-five miles west of Hannover, Germany. Exhumation carried out in the Wetscher Cemetery, eleven miles north of Oppendorf, revealed that her son and members of his crew had been buried by the Germans with the members of two other crews. Of the six members of her son's crew who lost their lives, four were individually identified. They were her son, Pilot Officer Batchelor, Pilot Officer Baker and Sergeant Robinson. All three crews were moved to Permanent British Military Cemetery 5 1/2 miles west of the centre of the city of Hannover, Germany - known as the Hannover (Limmer) British Military Cemetery. Her son was laid to rest in Plot 8. Row H. Grave No. 4. Two members of her son's crew who could not be identified separately, P/O. Adams and Sgt. Watmough, were buried collectively with the unidentified members of the other two crews in Graves 10 to 16.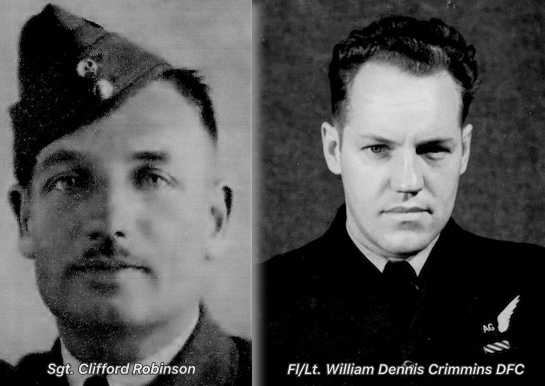 William Dennis Crimmins was born in Guelph, Ontario on March 10, 1914, the eldest of four children. His attestation form of July 2, 1940 and RCAF files reveal that he had a high school education and completed an automotive correspondence course. It is noted that he was extensively engaged in boxing and was an instructor. He added the comment that he was "unable to continue in school, owing to conditions at home." His parents separated in November 1928 and his mother retained full custody of the children. The whereabouts of his father remained unknown since then. Bill Crimmins was employed as a weaver when he joined the RCAF.
He volunteered for aircrew as an air gunner. His initial assessment found him to be suitable in all respects for service in the RCAF, fully qualified in personal respects for commissioned rank. Summary: While the applicant is lacking in educational qualifications he has other attributes and leanings which seem to mark him as an excellent type for aircrew duties. Recommended for Air Gunner. He was discharged to Commission on 22.11.42 and promoted to the rank of Flight Lieutenant on 1.10.43. He was decorated with the Distinguished Flying Cross on 12.4.43 while serving with No.12 Squadron. Invested with the award by the King, 9 November, 1943:
"Pilot Officer Crimmins is a most gallant gunner whose cheerful confidence throughout his tour of operational duty has inspired a high standard of morale and courage in his crew. His coolness and determination in action have been outstanding. Overseas he served with Nos. 150 and 12 Squadrons. On 1.10.43 he was posted from 1656 HCU to 625 Squadron RAF Kelstern as the Gunnery Leader. He was reported missing and later presumed dead on 16.12.43 while participating in a bombing attack on Berlin".
Fl/Lt. Crimmin's mother received two letters from W/Cdr T. Preston, written the same day!

625S/C.6006/11/P.1. No. 625 Squadron,
RAF Kelstern,
Nr. Louth,
Lincolnshire.
20th December, 1943.
"Dr. Mrs. Crimmins,
Before you receive this letter, you will have had a telegram informing you that your Son, Flight Lieutenant William Dennis Crimmins (DFC) has been reported missing as the result of Air Operations.
It is with sincere regret that I write to you conveying as I do to Bill's family the feelings of my entire Squadron. On the night of 16/17th December, 1943 at approximately 1621 hours, Bill and his crew took off from this aerodrome to carry out a bombing attack over enemy territory, (the target was, in fact, BERLIN) and were due to return at approximately 2330 hours that night. Unfortunately the aircraft never returned, and we have heard nothing from it or any member of the crew since time of take off.
We lost one of our happiest crews when this aircraft did not return, and one for which a great future has already been mapped out with the Squadron.
Your Son was extremely popular with this Squadron and was an extremely keen and capable Gunnery Leader. His presence is greatly missed in the Officer's Mess where he spent many happy hours in the cheerful company of his many friends, and his loss is regretted by all.
There is always the possibility that Bill may be a prisoner of war, in which case you will either hear from him direct or through the Air Ministry, who will receive advice from the International Red Cross Society.

Your Son's effects have been gathered together and will be forwarded to the Royal Air Force Central Depository, where they will be held until better news is received, or in any event for a period of at least six months before being forwarded to you through the Administrator of Estates, Ottawa.
May I now express the great sympathy which all of us feel with you in your great anxiety, and I should like also to assure you how greatly his many comrades in the Royal Air Force admire the heroic sacrifice your Son has made so far from his own country in the cause of humanity and in the Service of the British Commonwealth of Nations.
Bill's cheerful spirit will remain long in the memories of his many friends in the Squadron, and I fervently trust that we may hear that he is safe. Yours very sincerely,
T. Preston. Wing Commander, Commanding No. 625 Squadron, RAF.
"Dear Mrs. Crimmins,
I feel that I must add to the official letter of regret which you will receive from me, as your Son's Commanding Officer.
I knew Bill back in 1941 when we were together in the same Squadron, and he was one of the most reliable and praiseworthy gunners we had. Therefore I was very pleased to find him posted to my Squadron in October as Gunnery Leader, a position which he has held ever since.
I miss him especially as a friend, and also for the fine work which he has been doing here. Keen, and very reliable, he did an excellent job getting his gunners working together and I felt that the work was in good hands.
Now, I can only join with you in hoping for some good news of him. We all miss him and can expect no better chap than him to fill his place.
Will you therefore accept my sincere sympathy at this time, and my good wishes, together with all friends here in the Squadron, for good news in the future.Yours ever",
T. Preston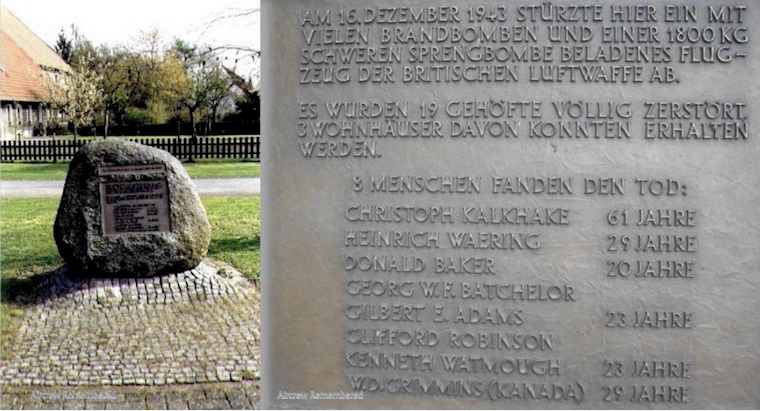 (1) This was the 79th victory for Obstlt. Helmut Lent. He went on to claim 102 night fighter kills and a further 8 before on the 7th October 1944 he died after suffering injuries sustained during a crash landing on the 5th October 1944 during a crash landing in his Ju88 G-6 at Paderborn airfield following engine failure and subsequent collision with a high tension cable. His crew were rescued - injured from the crash. Walter Kubisch (radio operator) and Hermann Klöss (2nd radio operator) died the same day, Werner Kark (War correspondent and Air/Gnr) died the next morning. (See Kracker Luftwaffe Archive on this site)
(2) Pilot Officer Robert William Burke DFC, AUS/420438 RAAF Age 22, was posted with his crew to No. 460 Squadron 20.11.43. Lancaster III JB600 AR-O. He and at least two of his original crew, bomb aimer 20 year old, Fl/Sgt. James Lennox Brooks AUS/426045 RAAF and navigator 23 year old, Fl/Sgt. Andrew Henry AUS/420385 RAAF were killed in action on April 10, 1944 on a Gardening operation to the Baltic.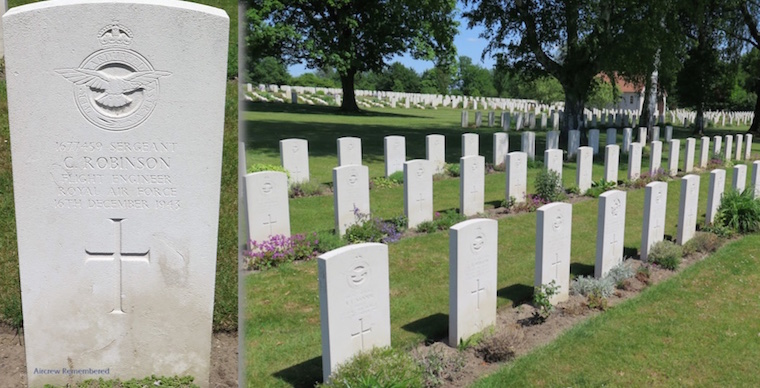 Burial details:
P/O. Donald Baker. Hanover War Cemetery. Grave 8.H.8. Son of Frank Walter Thomas Baker and Laura Baker, of Bletchley, Buckinghamshire, England. Grave inscription reads: "Treasured Memories Of A Son We All Loved. Mum, Dad And Family".
Sgt. Clifford Robinson. Hanover War Cemetery. Grave 8.H.2. No further details available - are you able to assist?
P/O. George William Frederick Batchelor. Hanover War Cemetery. Grave 8.H.3. No further details available - are you able to assist?
P/O. Gilbert Ernest Adams. DFC. Hanover War Cemetery. Coll. Grave 8.H.10-16. Son of Ernest George and Annie Florence Adams of Wimbledon, Surrey, England.
Sgt. Kenneth Watmough. Hanover War Cemetery. Coll. Grave 8.H.10-16. Son of Arthur and Sarah Watmough, of Bingley, Yorkshire, England. Grave inscription reads: "In The Garden Of Memories We Meet Every Day".
Fl/Lt. William Dennis Crimmins. DFC. Hanover War Cemetery. Grave 8.H.3. Son of Daniel Crimmins and of Elizabeth Crimmins (née Roth), of Guelph, Ontario, Canada. Grave inscription reads: "In Our Hearts For Ever He Will Live. May His Soul Rest In Peace".
Other:
(2) P/O. Robert William Burke DFC. Esbjerg (Fourfelt) Cemetery, Denmark. Grave A.7.5. Son of Alfred and Florence May Burke of Sans Souci, New South Wales, Australia. Grave inscription reads: "His Duty Fearlessly And Nobly Done. For Ever Remembered"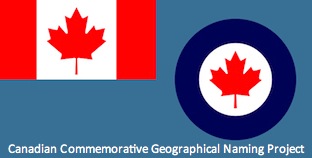 Crimmins Island in Frobisher Bay, Nunavut is named after Fl/Lt. Crimmins
Decoration Suggestions (by the author of these additions):
169107 P/O. D. Baker: Posthumous Commission - DFC. 1677459 Sgt. C. Robinson - DFM. 169468 P/O. G.W.F. Bachelor: Posthumous Commission - DFC. 54003 P/O. G.E. Adams DFC: Posthumous Commission - Bar to DFC. 1213427 Sgt. K. Watmough: - DFM. J/16533 F/L W.D Crimmins DFC - Bar to DFC.
Sources:
625 Squadron ORB.
Library and Archives Canada/ancestry.ca: Canada, WW II Service Files of War Dead, 1939-1947/ William Dennis Crimmins J/16533, Images 182-186.
Commonwealth War Graves Commission website.
Nachtjagd War Diaries Volume One and Theo Boiten.
Dean C. Black, Executive Director/Chief Staff Officer RCAF Association.
Photographs:
Sgt. C. Robinson - courtesy of Allan Mawson, great nephew.
Fl/Lt. W.D. Crimmins DFC - courtesy of Library and Archives Canada/ancestry.ca
625 Squadron Aircrew and Gravesite Photos and Documents,
F/L William Dennis Crimmins DFC, J16533, Page 154 on Ancestry RG24 25134.
Submission by Jack Albrecht and Nic Lewis. Co-authors: John Naylor and Maureen Hicks. Reg Price, surviving 625 Squadron Vet, forced to abandon this mission due to overheating starboard inner engine.
Researched for a relative of Sgt. Clifford Robinson, Allan Mawson. Bob B at Find A Grave for Hanover Cemetery photo. For further details our thanks to the sources shown below.
© 2004-2021 John Albrecht