The History of 625 Squadron Losses
Unsung Heroes:
LAC Henry Cockbain R168552
In process of tying up loose ends, to minimize duplication included in two prior Aircrew Remembered archive reports on 625 Squadron losses, LL956 and NG267, the path led me to the CWGC page for the headstone information on F/ Sgt. L.D. Bennett. A curious, side glance focused on that for LAC Henry Cockbain R168552 RCAF, died on November 11, 1944, age 24. The story that unfolded on review of the Library and Archives Canada/Ancestry.ca, Service Files for War Dead 1939-1947 website, was most disturbing and tragic:
Henry Cockbain, DOB October 25, 1920, was the son of Mark and Mary Cockbain of Millet, Alberta. This handsome young farmer signed his attestation papers on November 5, 1941, to serve his country. He was trained as an aero mechanic/fitter and posted overseas to serve at RAF Linton-on-Ouse, a Bomber Command station in North Yorkshire.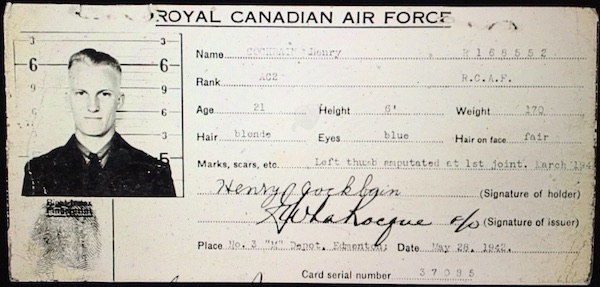 1. AC2 Henry Cockbain R168552, RCAF ID Card.
On November 6, 1944 he was admitted to the station hospital with presenting symptoms of headache, generalized aches and pains all over his body since the previous evening. He felt feverish. His condition at that time was temperature 102.6 and colour flushed. He was admitted SSQ, tentative diagnosis — influenza. His clinical chart shows a course of spiking temperatures up to 104 degrees F with deterioration. Diagnosis changed to bronchopneumonia on November 9th.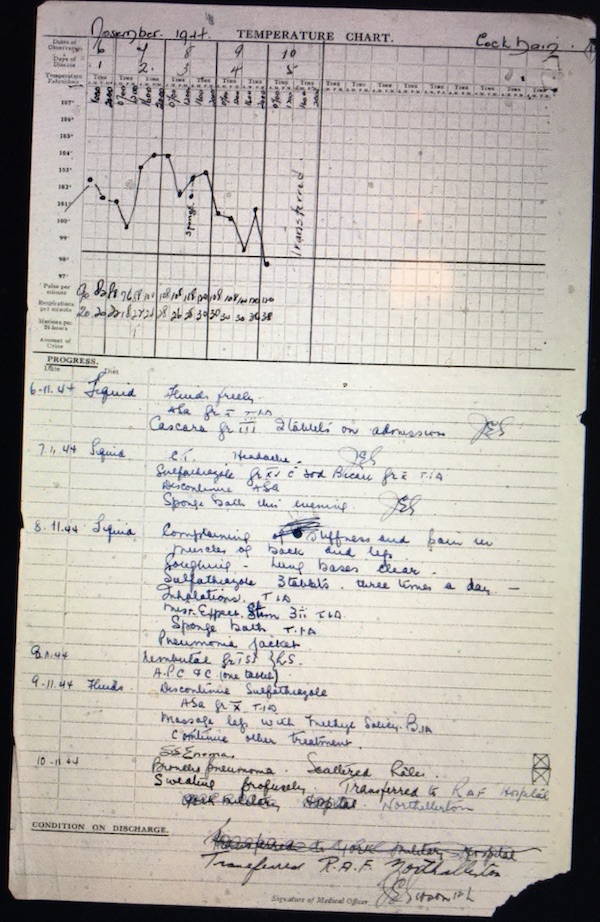 2. LAC Cockbain, Clinical Record, RAF Linton-on-Ouse Station Hospital
Due to clinical decline he was transferred to RAF Northallerton Military Hospital on November 10, 1944.
Disease or Injury: Septicaemia.

Previous history of case and family if relevant — 3.00 PM

Six days ago — Headache, aches all over. Slight cough.
Five days ago — Pain in right side of chest worse on coughing. Joint pains.
Two days ago — Sputum developed. Has had blood streaking.
Three weeks ago grazed right knee (told mate that he fell off his bicycle)

Condition on admission:

Ill man. Quickened respiration. Alae nasi working. Audible ronchi. Numerous infected follicles over chest and back.
Chest — Rt base P.N. & B.S. impaired, breathing not bronchial. less so at the extreme base...
Rt elbow and knee a little swollen. Small lesion about the size 3 ?..it on rt. knee well scabbed over.
Meteorism.
Carry on Sulphathiazole.

X-Ray generalized scattered opacities mostly quite small one or two about the size of shilling.

10.11.44 12.00 m.n.

Continue Sulphathiazole 1 gr. q.h.
Penicillin 20,000 units 3 hourly.
Fluids+ Glucose+ (but not pushed to point of nausea) Citrate or peptonized milk.
Flatus tube to be passed.
Caromine 1 1/2 cc 4 hourly throughout the night or p.r.n.
Continue oxygen with B.L.B. mark.
Sister or nurse not to leave him without being relieved by sister or nurse, throughout the night. Special to be obtained if necessary.
Let me know if any further deterioration or difficulty.
(Signed) A. Nelson. Jones W/Cdr.

11.11.44 03.45 hrs. — Died.

Post Mortem

Right kidney — multiple abscesses. Lungs — very many small abscesses and infarcts scattered over all lobes. Oedema in subcutaneous tissue over right elbow: joint was clean, sero-purulent fluid in pericardial sac. Ascending and transverse colon distended.
It was established at coroner's inquest that death was due to septicemia from abrasion on leg, the result of a bicycle accident not on duty.

11.11.44 K. F... S/Ldr
Letter to mother, Mrs. Mary Cockbain of Edmonton, AB. 20/Nov./44
Dear Mrs. Cockbain:

Before you receive this letter, you will have had the telegram informing you of the the sad loss of your son, R.168552 LAC Henry Cockbain...

... (History of illness and care in R.A.F. Hospital Northallerton)...

A postmortem was ordered and on completion of same it was discovered that your son had died of septicaemia, resulting apparently from an abrasion caused by his falling of a bicycle on approximately the 19th October last. On examination of the abrasion it was found to have completely healed and it is, therefore, presumed that this septicaemia set in prior to its healing. However, there is no evidence to substantiate this assumption.

Owing to the time taken to communicate under present conditions, it was not possible to ascertain your wishes regarding the funeral in the time available. However, I contacted Mrs. Nora Cockbain, 13 Caiystane Avenue, Edinburgh, informing her of the arrangements which we had completed and requesting her to confirm that these were satisfactory. Mrs. Cockbain advised us the funeral arrangements were satisfactory. You will, I am sure, understand the necessity for this action and I sincerely trust that the arrangements we were able to make are such as you would have wished.

Your son's funeral took place at R.A.F. Regional Cemetery, Stonefell, Harrogate, Yorkshire, on the 16th November, 1944 at 1030 hours. The service was conducted by the Station Chaplain, Squadron Leader C.K. Sansbury, the body being interred in the referenced cemetery. A number of your son's near relatives were present at the funeral. Full service honours were awarded, the coffin being carried by airmen of his Section, a firing party was provided and the coffin was covered with the Union Jack. The Last Post was sounded at the end.

Wreaths were sent from the Station Commander and all ranks of this Station, from the Officers' Mess, Sergeants' Mess, his roommates, from the Repair and Inspection boys, officers of the Servicing Wing, from Irene, Eve, Jilian and Marion, from Aunt Jenny, from Uncle Willie, Ethel and Jenny and Sarah Pall. Photographs of the funeral and grave, the number of which is Section G, B.2, and the cards attached to the wreaths are enclosed.

You will wish to know that all war graves are taken care of by the Imperial War Graves Commission, who will erect a temporary wooden cross pending the provision of a permanent memorial by them.

Your son's effects have been gathered together and sent to the R.A.F. Central Depository and from there will be forwarded to the Administrator of Estates, Ottawa, who will be writing to you in this regard in due course.

May I now express the great sympathy which all of us feel with you in the sad loss you have just sustained and I should like, also, to assure you how greatly his comrades in the Royal Canadian Air Force admired your son. He was very popular, an upright, clean living young man. You will feel proud of the sacrifice your son has made so far from home in the cause of humanity and in the service to his country, also that he was highly thought of by his fellow workers.

C.L. Annis
Group Captain,
Commanding RCAF Station
Linton-on-Ouse.
RAF Station Linton-on-Ouse, North Yorkshire
RAF Linton-on-Ouse opened on 13 May, 1937 as a bomber airfield and was the home of No. 4 RAF Group until 1940.

November 2008 Incident:

In early November 2008 Wing Commander Paul Gerrard, who is based at the station, was involved in an unusual mid-air rescue. Sixty-five-year-old Jim O'Neil was flying a four-seater Cessna 182 from Scotland to Essex after a family holiday when he had a stroke which caused temporary blindness. Gerrard was on a training flight, and after being alerted to the situation, located O'Neil's aircraft and over a 45-minute period, guided O'Neil to a safe landing at Linton.

With the transfer of pilot training to RAF Valley on Anglesey, the RAF confirmed that it would vacate Linton-on-Ouse by 2020 and look to dispose of the site.
AUTHOR'S NOTE: This vignette on the sad fate of LAC Cockbain exemplifies that not only Bomber Command aircrew would be called on to make the ultimate sacrifice. Even ground crew, not on duty, could 'fail to return'. It is commendable that this young airman received exceptional care for the era, during wartime conditions. The heartfelt letter by the Station Commander, indicates how devastating his loss was felt by all concerned.
JEA
Photo Credits and Titles:
AC2 Henry Cockbain R168552, RCAF ID Card.
LAC Cockbain, Clinical Record, RAF Linton-on-Ouse Station Hospital.
Reference/Photo Credits:
Library Canada Archives/ancestry.ca, Service File of War Dead, 1939- 1945.
© 2004-2021 John Albrecht