The History of 625 Squadron Losses
20/21.02.1945 No. 625 Squadron Lancaster I NG412 CF-M F/O. Cooper
Operation: Dortmund
Date: 20/21st February 1945 (Tuesday/Wednesday)
Unit: No. 625 Squadron
Type: Lancaster I
Serial: NG412
Code: CF-M
Base: RAF Kelstern, Lincolnshire
Location: Over target
Pilot: F/O. J. Jamieson RAFVR
Fl/Eng: Sgt. E.J. Cuthill RAFVR
Nav: F/O. F.W. O'Reilly RAFVR
Air/Bmr: F/O. David Norman Anthony Cooper 154093 RAFVR Age 21. Killed
W/Op/Air/Gnr: Fl/Sgt. D.E. Smith RAFVR
Air/Gnr: Fl/Sgt. H.W. Elliot R/220226 RCAF
Air/Gnr: Sgt. E. Wilson RAFVR
REASON FOR LOSS:

F/O. Cooper was posted from No. 71 Base to 625 Squadron RAF Kelstern on the 14th February 1944. It appears that he was posted in as a spare bomb aimer and not a member of a fixed crew. He flew on his first operation as a member of Fl/Lt. G.H. Reynolds's crew on the 28th December 1944. For the next twelve raids he was the regular bomb aimer for F/O. Fl/Lt. J.C. Wilson. For his fourteenth and last operation he was the 'spare bod' bomb aimer of F/O. J. Jamieson's crew to Dortmund.
Additional Information from 625 Squadron ORB's:
20/2/45 Operations. 25 aircraft were detailed for an attack on a German target which was later changed to Dortmund. This Ruhr target was again battered by 625. The weather was good on the way to the target but 10/10 ths cloud covered the target area preventing the crews from seeing the T.I.s burning on the ground. However, the cloud was thin enough to see the glow of the T.I.s through it and many crews bombed on the glow. Some Wanganui were also dropped: Heavy flak was fairly intense but the searchlights were unable to operate owing to the cloud. Fighters were active. F/O. Maloney in "Y" failed to return from this operation. F/O. Cooper, Bomb Aimer, with F/O. Jamieson's crew in "M" was unfortunately killed by an explosive missile shortly after leaving the target. The rest of the crew returned to Base safely.
The Squadron lost another complete crew on this operation:
Lancaster I NG267 CF-Y Flown by F/O. William Patrick Maloney DFC J/29566 RCAF of Sudbury, Ontario, Canada - Killed with all 6 other crew.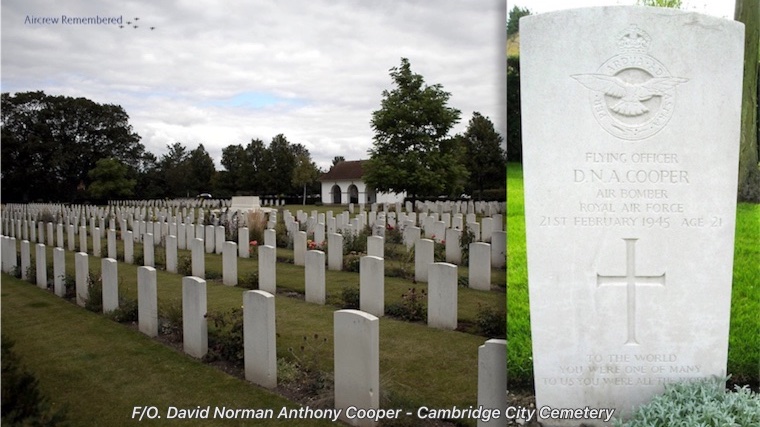 ---
For acts of valour, courage or devotion to duty: Suggested decorations, F/O. David Norman Cooper 154093 RAFVR - DFC. KIA, eyewitness account.

---
Burial details:
F/O. David Norman Anthony Cooper. Cambridge City Cemetery. Grave 15921. Son of Norman Aldred Cooper and of Olive Beatrice Cooper, of Chelsea, London, England. Grave inscription reads: "To The World You Were One Of Many To Us You Were All The World".
Researched by Jack Albecht for Aircrew Remembered and Nic Lewis - February 2018 and dedicated to the relatives of this crew member. With thanks to further sources indicated.
© 2004-2021 John Albrecht