The History of 625 Squadron Losses
14/15.2.45 No. 625 Squadron Lancaster I NF996 CF-J2 Fl/Lt. Cunliffe
Operation: Chemnitz
Date: 14/15 February 1945 (Wednesday/Thursday
Unit: No. 625 Squadron
Type: Lancaster I
Serial No. NF996
Code: CF-J2
Base: RAF Kelstern
Location: Between Marbach and Schellenburg, approx. 15 km ESE of Chemnitz
Pilot: Fl/Lt. Robert Cunliffe 150242 RAFVR Age ? Killed
Fl/Eng: Sgt. Dennis Willian Hayes 1897966 RAFVR Age 20. Killed
Air/Bmr: F/O. Ernest James Lowther 56625 RAFVR Age ? Killed
Nav: F/O. Arthur Gordon Slocum J/41191 RCAF Age ? Missing - believed killed
W/Op/Gnr: Sgt. Donald Williams 1591420 RAFVR Age ? Missing - believed killed
Air/Gnr: Sgt. Walter Patrick Pass 2223018 RAFVR Age ? Killed
Air/Gnr: Sgt. Thomas Henry Hatton 2223136 RAFVR Age ? Killed
REASON FOR LOSS:
The cause for this loss is obscure. Theo Boiten in Nachtjagd War Diaries Volume Two notes that very few night fighters were active in the target area and no claims were made in this location. It is known that NF996 exploded in mid-air, with no survivors. Wreckage was spread over 8 km. Official reports are conflicted between a night fighter attack or victim of falling bombs. Local citizens also supported flak as a possible cause. A hostel in Schellenburg was used as a centre to gather remains for burial.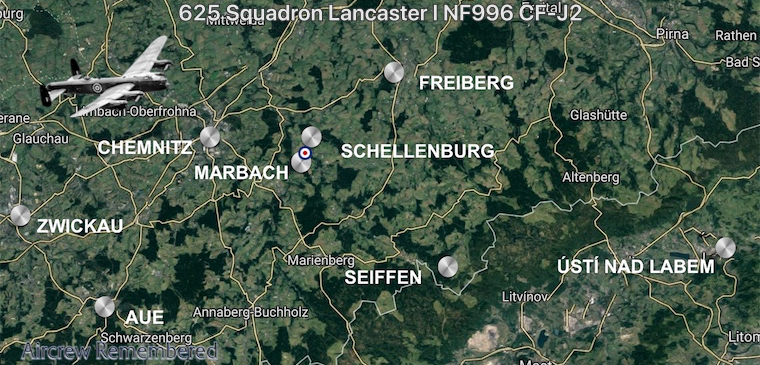 Aircrew recovery and identification proved to be problematic as postwar the crash site was located in the Russian Occupation Zone. Captured German documents confirmed that NF996 crashed with great violence halfway between Marbach and Schellenburg. Apparently three of the crew were buried in the cemetery at Schellenburg. However investigation, including exhumation, found that four crew mates were buried in a single grave. They were positively identified as: Fl/Lt. Cunliffe, Sgt. Pass, F/O. Lowther and Sgt. Hayes. The body of Sgt. Hatton was located buried with another crew in a nearby village, Pockau, eight miles south-east of the NF996 crash site.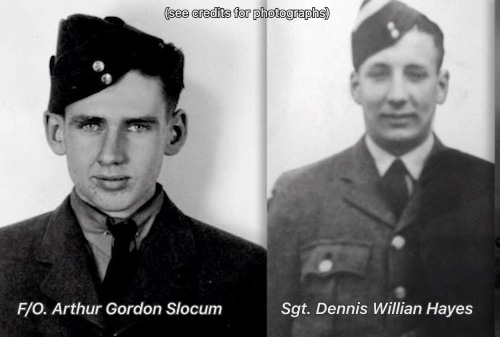 Rod McKenzie, co-author of the pending Nachtjagd Combat Archives, has provided the following information on the recovery and identification of the remains of Sgt. Hatton. He noted that the Missing Research and Enquiry Service (MRES)1 exhumed the grave at Pockau on April 13 1948 and concluded their identification work on 22 April 1948. They found Sgt. Hatton buried by the Germans as " A.C. 2 Thomas Hutton 2223136" and formally identified him by his service number written on a sock.Evidence suggests that he managed to bale out before the aircraft exploded and crashed. More information of his ultimate fate may become available on file review of two war crime trails.
Unfortunately the bodies of F/O. Slocum and Sgt. Williams were never located despite an exhaustive search by the MRES. This Service must be recognised and commended for their painstaking and diligent quest after wars end to bring closure for the families of Bomber crew that had disappeared into the void of Occupied Europe. Their task was never pleasant but they never left a stone unturned if their was any possibility of solving the mystery of a lost crew. With forensic wizardry, on many occasions, they were able to make a positive ID with mere fragments of remains, uniforms, personal effects and aircraft debris. Unfortunately there were many occasions when they were unsuccessful and the airman was left as having No Known Grave and commemorated with a panel on the Runnymede Memorial. This was the situation with the losses of F/O. Slocum and Sgt. Williams. After six months the RCAF Casualty branch issued a certificate of presumption of death for official purposes for F/O. Slocum. This was most heart wrenching for his family, especially his mother who continued to hold out hope for his return for the next five years, believing him injured or amnestic.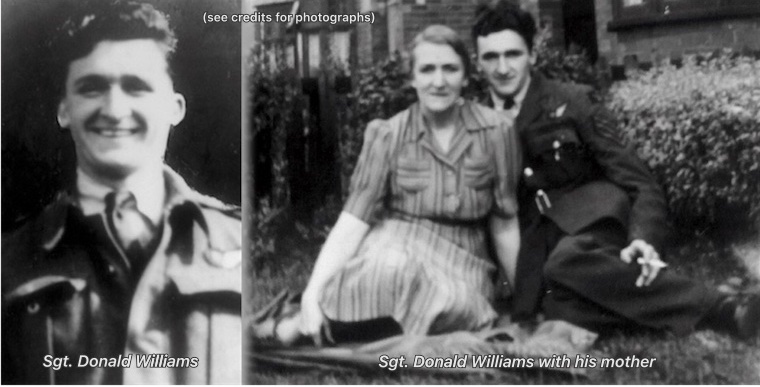 F/O. Cunliffe and his crew arrived at No. 625 RAF Squadron Kelstern on November 1st 1944 to serve their tour of ops. This crew always flew as a team and never carried out a sortie with a 'spare bod' or 'second dickie' crew. On November 27/44 F/O. Cunliffe with Sgt. Hayes and F/O. Lowther flew with F/O. Sutton to Freiburg for their baptism under fire. The crew then flew two uneventful ops to Karlsruhe and Merseburg-Leuna in PB158 and LM679. For the next thirteen sorties NF996 was their favoured kite. They racked up trips to Essen, Ludwigshafen and Ulm. Their trip to Ulm culminated with a diversion to Fiskerton, possibly due to fog. Their next seven ops were unremarkable and included targets such as Munchen Gladbach, Gelsenkirchen, Nurnburg, Zeitz and Cleve. Their thirteenth mission to Politz was a different story: Mission abandoned at 22.20 (T/O at 19.36) as the port outer engine vibrated badly and started burning. Engine was feathered and returned to Base after bombs had been jettisoned as ordered. On February 13 1945 Fl/Lt. Cunliffe and crew participated in the controversial Dresden raid. They departed Kelstern at 20.09 on February 14 1945, their fifteenth op and thirteenth in NF996, detailed to attack Chemnitz: FAILED TO RETURN, no news after takeoff. At this point the Cunliffe crew, halfway through their tour, was seasoned. Whatever happened on the Chemnitz raid was sudden and catastrophic without time to bale out and two of the crew obliterated. Sgt. Hutton as the exception.
Burial details:
Fl/Lt. Robert Cunliffe, Berlin 1939 -1945 War Cemetery- 13.A.1. No further details - are you able to contribute?
Sgt. Dennis William Hayes, son of Francis William and Elsie Hayes of Southampton. Date of birth 12.5.1924. Berlin 1939 -1945 War Cemetery - 13.A.4. "Sweet is the memory, silently kept, of you whom we loved and never will forget".
F/O. Ernest James Lowther, Berlin 1939 -1945 War Cemetery - 13.A.3. No further details - are you able to contribute?
F/O. Arthur Gordon Slocum, son of Charles Stanley and Cora M. Slocum of St. John New Brunswick. Date of birth November 1, 1924. Bank clerk. In May 1942 transferred from 2nd No.4 Signal Co. Royal Canadian Corps of Signals to join the RCAF. Runnymede Memorial - Panel 280.
Sgt. Donald Williams, Runnymede Memorial - Panel 277. No further details - are you able to contribute?
Eileen Northall (née Pass) wrote to Jack Albrecht after the page was published: "One thing I forgot to mention to you was that my Dad wrote me a poem, when I was just 4. He was no Wordsworth but it's quite a nice poem. After my first visit to Saxony the vicar of our church asked me to say a few words on Remembrance Sunday and I finished by reading the poem. People told me how moved by it they were and how privileged they felt to hear my Dad's words written to his little girl". (webmaster: such a touching poem - we added it to the Poetry section)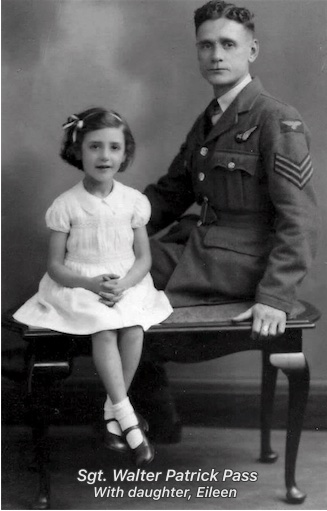 To Eileen from Daddy.
There are times when you're happy
There are times when you're sad
There are times when you're lonely
But what of your Dad
He's happy sad and lonely too
He's happy when he thinks of you
He is sad to know that you're far away
Although he knows that there'll come a day
When the world will be free and happy and gay
But when he feels lonely although in a crowd
He longs to be with you, but feels mighty proud
To know that each night you kneel by your cot
And ask God to forgive those that started the Rot
Dad knows that you pray for his safety too
God answers the prayers of children like you
These thoughts bring a silent tear to his eye
But they give him the courage to hold his head high
Your daddy is fighting to make the world free
And to make sure that the future forever will be
An age of contentment and freedom and Bliss
For millions of people like you little miss
But fighting alone will not win this mad war
Your prayers to God are much better by far
So pray hard Darling on them we depend
To help us fight on and the Right to defend
So Darling remember when you're feeling blue
Your Daddy is always thinking of you
Try to be happy and above all be good
Mummy will help you whatever your mood

Then when the great days come which come it must do
We'll all be happy together, Daddy, Mummy and you.
Sgt. Walter Patrick Pass, son of Walter and Elizabeth Pass of Sheffield; husband of May Pass. Date of birth October 13 1909. At age 16 he joined the British Army with his two older brothers, serving in India and Egypt. With the outbreak of war he left the railway to join the RAF. His loss left his wife dependent, living with her mother and his daughter yearning for his return. Berlin 1939 -1945 War Cemetery - 13.A.2. "The day thou gavest, Lord, is ended" R.I.P.
Sgt. Thomas Henry Hatton, Berlin 1939 - 1945 War Cemetery - 5.H.7. No further details - are you able to contribute?
Photos:
Sgt. D.W. Hayes - courtesy of nephew, Brian Porter and Eileen Northall. F/O. A.G. Slocum - courtesy of Library and Archives Canada/ancestry.ca, F/O. Arthur Gordon Slocum, R/201597 - J/41191 p.73 RG24 28667.
Sgt. D. Williams - courtesy of Eileen Northall. Photo of Donald and one with his mother. The reverse of the latter has the inscription: "To Wally a swell pal. From Don and his Mum. Best wishes. September 1944." Wally, is a reference to Eileen's father. These two mothers of Sergeants Williams and Pass developed a lifelong friendship. Sgt. W.P. Pass - courtesy of daughter (sitting on his knee), Eileen Northall.
References:
No. 625 RAF Squadron Operational Record Books. Commonwealth War Graves Commission website. Nachtjagd War Diaries Volume Two by Theo Boiten and Roderick J. McKenzie. Royal Air Force Missing Research and Enquiry Service 1944-1952: (RAF Museum)1 Nachtjagd Combat Archives, pending.
(1) The Royal Air Force Missing Research and Enquiry Service (MRES) was set up in 1944 to trace the 42,000 personnel who were listed as 'missing, believed killed'. The demand was so great that the department was expanded in 1945. These men had no special training, and did not have the benefits that modern technology offers; only a strong desire to bring home those who had not returned. Despite the obstacles caused by the lack of tools, the MRES was able to account for over two thirds of the missing personnel by a thorough combing of the globe. Those found were identified and reinterred in Commonwealth War Graves Commission plots.
Without the commitment shown by the dedicated teams of the MRES, many families would go on not knowing what had happened to their loved one or of the location of their Final resting place. The MRES allowed families the dignity to finally grieve. The unit was disbanded in 1952 under protest from †he Unit as they were making great inroads into crew burial identification. Disbanded due to funding issues!
Submission by: Jack Albrecht, Eileen Northall and Nic Lewis for Aircrew Remembered July 2018.
© 2004-2021 John Albrecht