The History of 625 Squadron Losses
10/11.04.1945 No. 625 Squadron Lancaster I PD204 CF-P2 F/O Joseph Fred Mooney DSO
Operation: Plauen (Marshalling Yards)
Date: 10/11 April 1945 (Tuesday/Wednesday)
Unit: No. 625 Squadron - Motto: We Avenge
Squadron Badge: Within a circular chain of seven links, a Lancaster rose; The Lancaster rose stands for the aircraft used, the seven links the number of personnel in one such aircraft
Type: Lancaster I
Serial: PD204
Code: CF-P2
Base: RAF Scampton, Lincolnshire
Location: Abandoned vicinity Bierset, Belgium
Pilot: F/O Joseph Fred Mooney DSO J41167 RCAF Age 23 - Safe, uninjured and returned to unit (1)

Second Pilot: F/O Douglas Rutherford 154862 RAFVR Age ? - Safe, uninjured and returned to unit (2)
Fl/Eng: Sgt. Roger Kerrison Colman 575545 RAFVR Age 23 - Safe, uninjured and returned to unit (3)
Nav: F/O Harold Harvie Harding DFC J40921 RCAF Age 21 - Safe, uninjured and returned to unit (4)
Air/Bmr: F/Sgt Norman Fairhurst 1522904 RAFVR Age ? - Safe, uninjured and returned to unit (5)
W/Op/Air/Gnr: F/Sgt George Swainston RAFVR 1090512 Age ? - Safe, uninjured and returned to unit (6)
Air/Gnr (MU): Sgt Roy Andrew Trundle 1866055 RAFVR Age 20 - Safe, uninjured and returned to unit (7)
Air/Gnr (R): Sgt Ernest Grey Morris 1890687 RAFVR Age 19 - Safe, uninjured and returned to unit (8)
INTRODUCTION
F/O Mooney and his crew celebrated New Year's Day 1945 with their posting to an operational air base. Joining 625 Squadron at RAF Kelstern, they were: Fl/Sgt. L. Wardle 1549781 RAFVR, flight engineer; F/O G.J. Mortimer J41568 RCAF, bomb aimer; F/O H.H. Harding J40921 RCAF, navigator; Sgt. G. Swainston 1090512 RAFVR, wireless operator; Sgt. G.W. Atkinson 3042715 RAFVR, mid-upper gunner and Sgt. E. Morris 1890687 RAFVR, rear gunner.
It was most timely that the Mooney crew arrived at Kelstern to start their operational tour when they did. The chances of surviving their tour was almost double what they would have been had they arrived during the Squadron's first fifteen months of night bombing operations. By this phase of the war there was no question of the final outcome. Only the duration to victory was unknown. Since the Normandy invasion Allied ground forces had made dramatic advances towards the east, as the Russian army was pressuring Germany from the east. The Battle of the Bulge, 16 December 1944 to 25 January 25 1945, was at its height to oppose the German army's last ditch, desperate, counter-offensive to turn the tide on the western front. It was coincidental that as F/O Mooney and his crew were arriving at Kelstern, the Luftwaffe was executing Operation Bodenplatte (Baseplate) in an attempt to destroy the Allied Air Force on the ground, as aircrew were celebrating New Year's Day. This exercise was a failure for the Luftwaffe with the loss of 271 day fighters and the Nachtjagd (three Ju88s in air combat, three to Allied AA fire, two to German flak!, and four aircraft damaged by AA fire. An additional Ju88 was lost later that day in a combat with an Allied fighter). There can be no doubt that this catastrophic loss of aircraft, aircrew and precious petrol would shorten the course of the war.
As the Allies advanced eastward the table of conflict tipped in favour of Bomber Command aircrews as the extension of the Mandrel radar blocking screen reduced the time that Nachtjagd controllers had to vector their Tame Boar (airborne interception radar equipped) aircraft into the bomber stream. In addition aircrew returning from a raid with a badly damaged aircraft or critical fuel situation, could force land or bale out to return to the fray within days.
However, despite the shortage of experienced pilots and petrol, the Nachtjagd could still deliver a deadly sting with their devastating weapon system, Schräge Musik, once 'swimming' in the bomber stream. During the Lützkendorf raid of 14/15 March 1945, Hptm. Martin Becker and his Bordfunker (gunner) Lt. Karl-Ludwig Johanssen claimed the destruction of nine RAF bombers. Hptm. Becker was credited with the first six and with his ammunition expended flew three more interceptions in order for Lt. Johanssen to bring to bear his twin MG131 machine guns. All accomplished in a single night sortie! Lt. Johanssen was decorated with the Ritterkreuz (Iron Cross) six days later by his 'driver', Hptm. Becker. Following this raid the Nachtjagd claimed the destruction of sixteen RAF bombers. This one crew had accounted for 56% of these aircraft! One other crew claimed three aircraft and the remainder were single claimants. It is noteworthy that Rod MacKenzie indicates that the number of claims by this crew in the Lützkendorf raid will be significantly reduced in the pending volume of The Nachtjagd Combat Archives.
F/O Mooney and his crew would have a busy two weeks adjusting to the hustle and bustle of an operational bomber base before entering the fray. Their busy schedule would include ground lectures on the various emergency situations they were bound to encounter over Occupied Europe, ditching practice, circuits, night cross-country training flights and bombing practice. Simultaneously they would witness their Squadron mates endure the necessary rituals of preparing for the real thing, followed by the empty mess hall seats the next morning.
By January 14, 1945 the powers that be deemed it time for F/O Mooney and four of his rookie crew, to get their feet wet. They were included on the Battle Order for the Squadron's bombing attack on Merseburg Leuna. F/O Mooney would be 'second dickie' to Captain/Pilot Fl/Lt Clem Koder. As was customary Fl/Lt Koder was supported by his regular navigator, F/O H. Zlotnik and rear gunner, Fl/Sgt. A.J. Avery. This was an uneventful trip and Fl/Lt Koder and his crew would tour expire before war's end. However, F/O H.W. Hazell and his crew in Lanc PD388 would fail to return from this mission. Before F/O Mooney and his crew took off on their final op to Plauen on April 10, 1945, they would witness this scenario ten more times.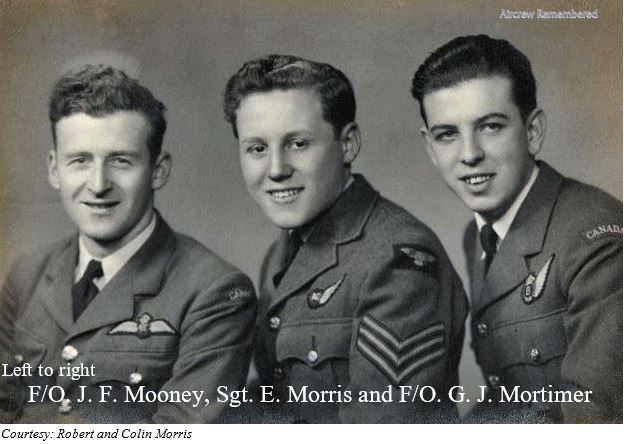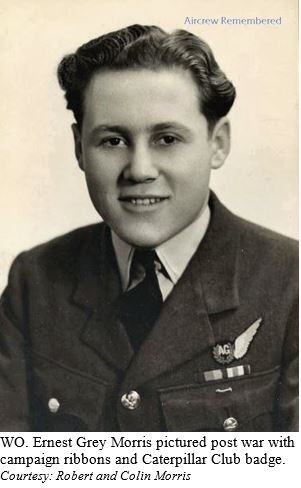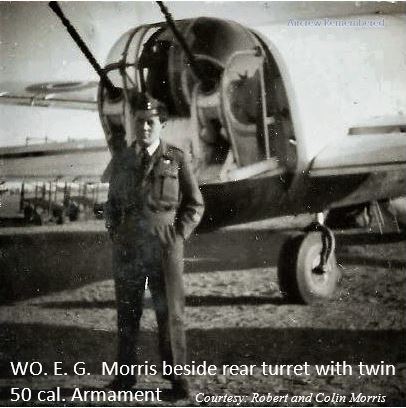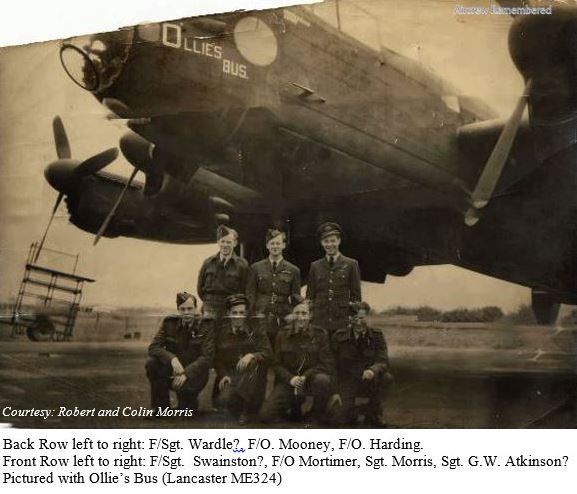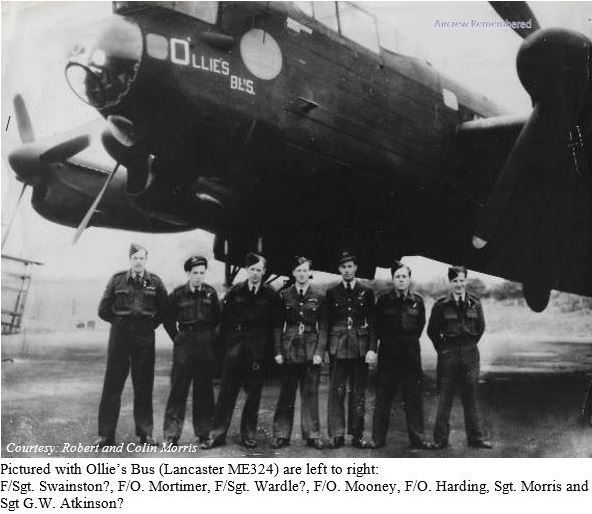 Ollie's Bus was Lancaster ME324 named by its regular Captain, F/O. Hal H. Ollis J21953 RCAF who was posted to 625 Sqn on 27 Feb 1945 from 1667 Heavy Conversion Unit.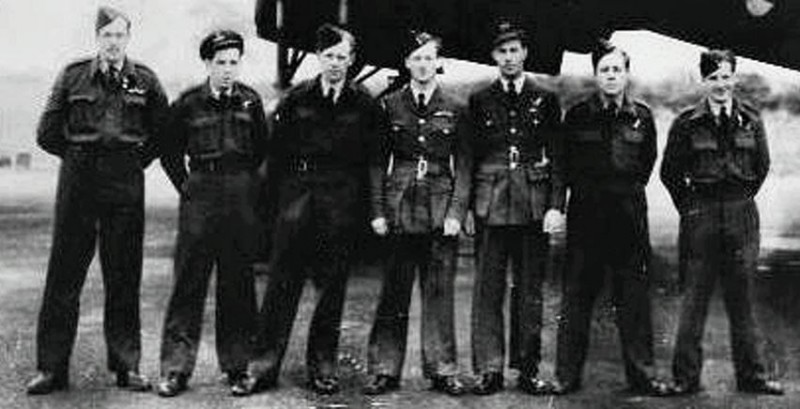 Close up of the Mooney crew taken from the above photograph with Ollie's Bus.
It is quite remarkable that the Squadron ORB indicates that F/O. Mooney and four members of his crew* flew twenty-one uneventful missions all without equipment failures, encounters with enemy night fighters or flak strikes or any other reason to abort a mission. Lady Luck had obviously cast her protective spell over this crew. And to top it off their list of targets was anything but a cake walk.

* Navigator F/O. Harding and Mid-Upper Gunner Sgt. Atkinson having missed the 2nd dickey trip of 14 January flew on 20 of those missions as follows:
RAF KELSTERN
2. 1.2.45: Ludwigshafen, Lanc III ME332
3. 2.2.45: Wiesbaden, Lanc I NG412
4. 7.2.45: Cleve, Lanc I PD204
5. 8.2.45: Politz, Lanc I PD204
6. 13.2.45: Dresden, Lanc I PB815
7. 14.2.45: Chemnitz, Lanc III ME332
8. 20.2.45: Dortmund, Lanc III ME332
9. 21.2.45: Duisburg, Lanc I PD375
10. 23.2.45: Pforzheim, Lanc III ME332
11. 8.3.45: Kassel, Lanc I PA175
12. 11.3.45: Essen, Lanc I NG412
13. 13.3.45: Erin, Lanc I NG412
14. 15.3.45: Misburg, Lanc I NG412
15. 16.3.45: Nuremberg, Lanc I NG412
16. 18.3.45: Hanau, Lanc I NG412
17. 22.3.45: Bruchstrasse, Lanc I NG412
18. 23.3.45: Bremen, Lanc I NG412
19. 25.3.45: Hannover, Lanc I NG412
20. 31.3.45: Hamburg, Lanc I ND337
RAF SCAMPTON
21. 9.4.45: Kiel, Lanc I ND337
Posted to 625 Squadron from 73 Base on 8 April was F/O. Douglas Rutherford and his crew comprising Sgt. Roger Kerrison Colman, flight engineer; F/O. Dennis Gordon Nethercott, navigator; F/Sgt Norman Fairhurst, air bomber; Sgt. Ronald Arthur Skinner, wireless operator/air gunner; Sgt Roy Andrew Trundle, air gunner and Sgt. Charles Munro Martin, air gunner. Little did they realise that in little more than 48 hours later, four of them would be parachuting from their stricken Lancaster over Belgium.
Douglas Rutherford was detailed to fly as second dickie under the captaincy of Joseph Mooney on the operation of 10 April to bomb the marshalling yards at Plauen, a round trip of more than 8 hours. Also flying with Douglas was to be his flight engineer, Roger Colman; air bomber Norman Fairhurst and mid upper gunner Roy Trundle. In crucial positions, Joseph Mooney chose his own navigator, Hal Harding; wireless op, George Swainston and rear gunner Ernest Morris.
REASON FOR LOSS
The 625 Squadron Operations Record Book includes the following details of the raid on Plauen.

'16 aircraft were detailed to attack this target. 1 aircraft failed to take off and 1 was reported missing for a few days but the crew returned safely after a few days. A good attack with plenty of smoke and dust and no opposition from ground or air.
Detailed 16. Primary 15. Cancelled 1. Abortive, Missing Nil.'
And in relation to PD204 and the Mooney crew.
'Up 18.35 Down
Subsequent information received this crew baled out over Belgium and returned safely to Base. The aircraft had three engines feathered one after the other and was hit by flak also but still managed to bomb the target at 23.09 hours from a height of 10,000 feet. Abandoned aircraft at 01.20 hours. A jolly good show.
Summary
16 aircraft of this Squadron were detailed to attack PLAUEN. Weather en route was clear apart from ground haze. P.F.F. were punctual and marking was concentrated. Bombing was very concentrated in the early stages and clouds of dust and smoke began to rise above the target. One of our aircraft "P2" (F/O Mooney and Crew) were reported missing. They eventually returned to this Unit after having an extremely rough trip being forced to bale out due to each engine going unserviceable until only one left. The aircraft was abandoned successfully by all the crew.'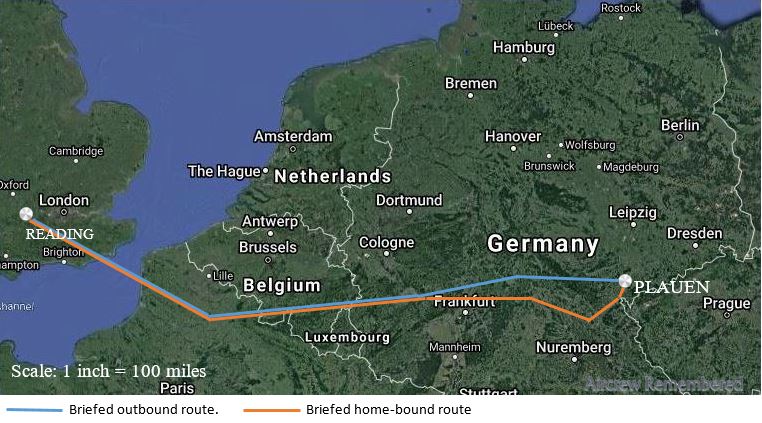 Just how "rough" this mission was for F/O Mooney and his 'second dickie' crew is graphically described by the Station Intelligence Officer in his report written five days after the event:-

'Base - Reading - 50°00N 03°00E - 50°18N 07°40E - 50°39N 10°00E - TARGET - 50°30N 12°13E - 50°20N 12°10E - 50°00N 11°20E - 50°20N 10°00E- 50°18N 07°40E - 50°00N 03°00E - Reading - Base

Briefed time over target 23.14 hrs

Bomb load: 1 4000 HC N. Inst. + 10 x 500 ANM 64 TD 025 [American supplied bombs AN = Army/Navy - M64 = 500lb GP bombs TD = time delay]
NARRATIVE
Trouble started early in this trip: on reaching the Reading area, an external oil leak developed in the rotating services joint above the front turret which resulted in the pilot's windscreen becoming blacked out with the oil which was blown back. Efforts to clear the windscreen failed, and the pilot had perforce to fly blind.
However, he continued on track but by the time he arrived at approximately 50.10N 05.00E, he found he was nine minutes ahead of time due to a wind change of over 100° in direction. After carrying out a short dog-leg to lose time, he started climbing from position 50.18N 07.40E in accordance with flight plan. Three minutes later at 22.10hrs the oil pressure on the starboard inner engine began to drop, falling to zero by 22.04hrs at a height of 14000ft. Almost immediately the engine started to shudder and vibrate and at 22.05hrs it was necessary to feather the engine, the aircraft then being at 17000ft. By using full power on the other three engines the bombing height of 18000ft was successfully achieved, but simultaneously, the oil pressure on the port outer engine began to drop, quickly falling to zero. The engine vibrated so violently that it also had to be feathered - at 22.45hrs, when the aircraft was about 45 miles from the target. "P2" was still on track, and the pilot decided to press on and bomb the target, despite the fact that the aircraft was unable to maintain height, and the loss of two engines cut out one generator, putting the bomb sight and both turrets unserviceable. While some loss of height with the bomb load was inevitable, the pilot deliberately increased speed eventually arriving at the target a height of 10000ft. Both the Red and Green T.I's were clearly seen, and, on the Master Bomber's instructions, the Bomb Aimer successfully bombed the centre of the Red T.Is at 23.09hrs, obtaining a sighting angle by means of the emergency computer and the drift angle from the Navigator.
During the bombing run, however, the aircraft came under intense light Flak fire, sustaining numerous hits which, though riddling the airframe and Perspex in the nose, apparently had no effect on the controls or the remaining two engines. In view of the loss of two engines and that the starboard outer had also appeared unreliable throughout the trip, showing fluctuations of 200rpm plus and minus, the pilot, after getting clear of the target area, decided that it was imperative to shorten his homeward route as much as possible in the hope of reaching Manston, crossing the Channel at its narrowest part. Therefore, on reaching position 50° 20N 12°10E a course was set direct to position 50°20N 10°00E, then the correct route was followed to approximately 50°20N 08°40E when, at 00.20 hrs, course was altered to 300° in order to cross the Rhine between Koblenz and Bonn, so avoiding Allied defence areas.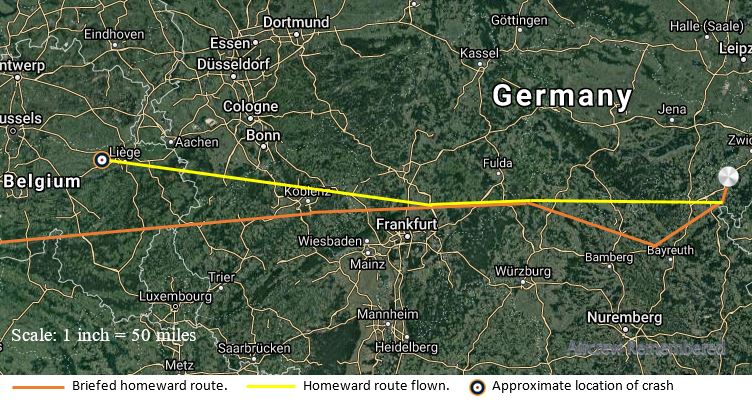 The aircraft had meantime been losing height and at this new change of course was down to 6000ft. The pilot had realised by this time that there was a distinct chance of failing to reach England, and also of getting into difficulties with I.A.Z's on the Continent; he therefore ordered the IFF to be switched to Distress at 00.32hrs.
At 01.15hrs when the aircraft was approximately 40 miles east of Liege, the starboard outer suddenly caught fire at the same time vibrating violently. It was immediately feathered by the Flight Engineer, the fire going out at once. When this happened the pilot warned the crew to prepare to abandon the aircraft, instructing them to put on their parachutes. The aircraft immediately began to lose height rapidly, and the pilot gave the executive order to abandon the aircraft at approximately 01.20hrs, height 4000ft, the position of the aircraft being 4 miles south east of Stavelot. The crew, being fully prepared for this contingency, baled out promptly and without any difficulty, the pilot estimating that everyone, including himself, was out of the aircraft within ¼ minute. All members of the crew left the aircraft via the front hatch, the pilot holding the aircraft on a steady course while the other members baled out. The aircraft was still losing height very rapidly, being at an estimated height of 2000ft when the pilot baled out.
The order of baling out was as follows:- Bomb Aimer [Sgt. Fairhurst], Second Pilot [F/O. Rutherford]. Flight Engineer [Sgt. Colman], Rear Gunner [Sgt. Morris], Navigator [F/O. Harding], Mid Upper Gunner [Sgt. Trundle], Wireless Operator [F/Sgt. Swainston], Pilot [F/O. Mooney]
Immediately after the pilot had baled out, he saw the remaining serviceable engine cut; the aircraft then described a tight right hand orbit, eventually crashing 500 yards east of a place where the pilot had landed, where it caught fire and exploded.

All members of the crew landed without mishap, but in wooded country, some experiencing slight difficulties owing to being entangled in trees and bushes. The pilot, suspended from the top branches of a tree, released his parachute harness and fell about 15 feet to the ground, fortunately without suffering more than a severe shaking. He then made his way to the burning aircraft where he met the W/op and M/U/G. He did not contact the rest of his crew for some hours, but all of them, having made their way westwards were reunited at the small railway station at Trois Ponts. Arrangements were then made by the local American Command for their conveyance to an R.A.F unit in Brussels for repatriation.
The outstanding feature of the fore-going narrative is the inflexible resolve exhibited by the crew of the aircraft to complete the mission for which they had been briefed, in the face of extraordinary difficulties, any of which might have been expected to deter a less determined crew. Their devotion to duty and high standard of discipline were further exemplified by their extreme care to bomb the target in accordance to the Master Bomber's instructions. Having left the target area by the ordered route, in order to maintain concentration and reduce the risk of collision, the pilot and navigator showed fine judgement and extreme coolness in selecting a route which would give them the greatest possible chance of bringing their aircraft safely to England. When this was no longer possible, owing to the loss of the third engine, the pilot still maintained complete control of the situation, and by issuing clear and precise instructions ensured that every member of the crew left the aircraft safely and in good order. Only when this had been achieved did he abandon the controls - although he knew from information supplied by the navigator, that there was some very high ground below, which gave him only a few seconds in which to save himself.
The crew as a whole behaved in a well disciplined and highly efficient manner throughout, at all times reflecting the exemplary conduct of their pilot.
Station Intelligence, RAF Base Station, Scampton 14.4.45.'
Taking into account the details of this harrowing flight, it is not surprising that F/O Mooney was awarded the Distinguished Service Order and his faithful navigator, the Distinguished Flying Cross.
'MOONEY, F/O Joseph Fred (J41167) - Distinguished Service Order - No.625 Squadron - Award effective 15 June 1945 as per London Gazette of that date and AFRO 1291/45 dated 10 August 1945.
Throughout this trip Flying Officer Mooney showed an indomitable spirit and matchless courage to press home his attack when the odds were heavily against him. He overcame difficulties which might well have daunted more experienced captains. His determination to save his aircraft at all costs deserves the highest praise and his quiet, calm leadership and total disregard for his own safety was a deciding factor in the saving of the lives of a crew which included five members with no operational experience [this is an error, four members of the crew were inexperienced]. This officer has proved himself a splendid leader and an outstanding captain and I most strongly recommend him for an immediate award of the Distinguished Service Order.'
On 21 April 1945, the Officer Commanding, Station Scampton, added his remarks:
'The indomitable courage and unconquerable determination to attack the target despite almost insuperable odds, shown by this young Canadian captain of aircraft, is true to the fighting tradition of his country and the RCAF and will for a long time be remembered as a magnificent example of morale and gallantry of the highest order and be an inspiration to all new crews. I most strongly recommend the immediate award of the Distinguished Service Order.'
On 23 April 1945, the Air Commodore who commanded No.15 Base wrote:
'This Canadian officer showed a magnificent determination in deciding to press home his attack despite the fact that only two of his four engines remained serviceable, and that he was therefore only able to bomb at a height so far below that of the Main Force as to invite, and receive, the most intense enemy fire from light flak. Subsequently it was due to his superb handling of his aircraft, and to his coolness and leadership when it became necessary to order his crew to abandon it, that he was able to save the lives of his crew and to get them back to this country.
I consider that this fine example of determination, cool courage and good captaincy well merits recognition by the award of the Distinguished Service Order.'
This was further endorsed by the Air Officer Commanding, No.1 Group, on 25 April 1945.
'HARDING, F/O Harold Harvie (J40921) - Distinguished Flying Cross - No.625 Squadron - Award effective 15 June 1945 as per London Gazette of that date and AFRO 1291/45 dated 10 August 1945.
Although deprived of the full use of the navigational aids, Flying Officer Harding navigated the aircraft to the target with great skill.
Flying Officer Harding also proved himself to be a most valuable crew member showing skill, coolness and devotion to duty in the face of great difficulties.'
BIOGRAPHICAL DETAILS OF CREW
1. F/O Joseph Fred Mooney DSO: Born on 15 June 1921 at Windsor, Ontario, Canada 15; home in Essex, Ontario (farmer); enlisted in Windsor, 8 October 1942 but granted Leave Without Pay until 25 October 1942 when taken on strength of No.1 Manning Depot. Posted to No.1 ITS, 15 January 1943; To No.9 Repair Depot, 26 February 1943. Trained at No.6 ITS (graduated 26 June 1943), No.7 EFTS (graduated 4 September 1943), and No.2 SFTS (graduated and commissioned 28 January 1944). Posted overseas 30 March 1944. Promoted Flying Officer, 28 July 1944. Promoted Flight Lieutenant, 11 April 1945. Repatriated 15 June 1945; To No.8 OTU, 19 June 1945; To Greenwood, 31 July 1945;
To Eastern Air Command Headquarters, 3 October 1945; released 22 February 1946. Re-engaged in Supplementary Reserve, 1 September 1950 to 1 June 1957 (pilot). He died at Belle River, Essex County, Ontario on 1 March 1994.
2. Fl/Lt Douglas Rutherford
1567343 LAC Douglas Rutherford was commissioned as a Pilot officer on probation (emergency) on 23 December 1943 (London Gazette 11 April 1944) promoted to Flying Officer (war subs) on 23 June 1944 (London Gazette 4 August 1944) and to Flight Lieutenant (war subs) on 23 December 1945 (London Gazette 18 January 1946).
Appointed to the Reconstituted Royal Auxiliary Air Force retaining his rank of Flight Lieutenant on 2 December 1950 and commissioned as a Pilot Officer (five years and five years on the reserve) on 2 December 1950 (London Gazette 22 May 1951)
He was promoted to Flying Officer on 2 December 1950 (London Gazette 28 August 1951) and transferred to the reserve on 18 December 1952 (London Gazette 12 May 1953)
Nothing further known - if you have any information please contact our helpdesk
3. P/O. Roger Kerrison Colman was born in 1922 at St. Faiths, Norfolk
755545 Sgt. Roger Kerrison Colman was commissioned as a Pilot Officer (emergency) war subs (57391) on 22 July 1945 (London Gazette 18 September 1945): confirmed in this appointment and promoted to Flying Officer war subs on 22 January 1946 (London Gazette 22 January 1946).
He was appointed to commission in the RAF Reserve of Officers as a Flying Officer (5 years) on 17 March 1952 (London Gazette 17 June 1952). Period of service extended by 5 years from 17 March 1957 (London Gazette 20 August 1957).
Nothing further known - if you have any information please contact our helpdesk

4. F/O Harold Harvie Harding DFC: Born on 20 October 1923 at North Sydney, Nova Scotia, Canada; home there (bank clerk); educated there. Enlisted in Halifax, 23 January 1943. To No.5 Manning Depot, 8 February 1943. To No.4 BGS, 8 April 1943. To No.9 Pre-Aircrew Education Detachment, 18 April 1943. To No.1 Manning Depot, 31 May 1943. To No.1 ITS, 12 June 1943. Promoted LAC, 20 August 1943. To No.4 AOS, 4 September 1943. Graduated and promoted Sergeant, 28 January 1944. To No.2 Aircrew Graduate Training School, 11 February 1944. Subsequently commissioned with effect from 28 January 1944. To "Y" Depot, 12 March 1944. Taken on strength of No.3 PRC, Bournemouth, 23 April 1944, disembarking in Britain on 7 May 1944. To No.8 (Observer) AFU, 20 June 1944. To No.18 OTU, 18 July 1944. To No.625 Squadron, 1 January 1945. Missing, 10/11 April 1945; reported safe, 17 April 1945. Repatriated 18 June 1945. To No.8 OTU, 19 June 1945 for "Tiger Force" training. To Greenwood, 31 July 1945. To Halifax, 19 September 1945. Released 23 September 1945. Died 21 July 1970 as per Legion Magazine of October 1970.

5. F/Sgt Norman Fairhurst - Nothing further known - if you have any information please contact our helpdesk
6. F/Sgt George Swainston - Nothing further known - if you have any information please contact our helpdesk

7. Sgt Roy Andrew Trundle was born on 7 November 1924 at Mutford in Suffolk the son of Osgood Robert Trundle (a Self-Employed Baker) and Bella Trundle nee MacKay.
He had four siblings: Donald K. Trundle (1916-1918), Annie Isabella May Trundle (1918-2002) Thomas Osgood Trundle (1920-1978) and his twin sister Marie Alexandra Trundle (1924-1989)
In 1939 the family lived at 46/50, Stanford Street, Lowestoft.
Gunner II Roy Andrew Trundle aged 22 was killed on 24 September 1947 when Avro Lincoln RE373 of 97 (Straits Settlements) Squadron piloted by P1 Stanley Frederick Whitlock aged 22, crashed at Mautby, 1 mile West of Caister, Norfolk whilst on a Night Navigational Exercise (routed Hemswell-Cherbourg (France) - Hemswell). The pilot and all 8 crew members were killed.
Roy Trundle lies at Lowestoft Cemetery Section T Grave 25.
8. Sgt Ernest Grey Morris: Ernie was born in London, England on 20 July 1925. He grew up in the Edmonton area of London with 4 brothers and one sister – he left school after Grade 8 and went to work in a machine shop with his dad and by his own words "hated it". At the earliest opportunity he enlisted in the RAF, received training as a Gunner and was quickly stationed with the 625 Squadron and assigned to a Lancaster bomber with a mixed crew of English and Canadians including Captain and Pilot, J.F. Mooney.
As with many veterans of WWII he spoke only sparingly about his war experiences but as his son, I remember his recounting of the night of April 10, 1945. They took off from their base in Scampton at about 8:30 pm with a destination of Plauen, Germany and did manage to drop their bombs successfully but were hit with anti-aircraft fire and the plane was severely damaged. The pilot, F/O Mooney, was able to somehow skilfully keep the Lancaster going but with the engines failing and losing height, he made the decision to abandon the aircraft and instructed all the crew one by one to parachute. My father, being a rear gunner was the last of the crew he came to and told him to parachute and as the Captain he was then the last to leave the by now very low flying, crippled plane. Ernie remembered jumping from the plane and that the night was very dark – he could hear the by now abandoned Lancaster continuing lower and lower through the dark night until there was a massive explosion which lit up the night as the plane hit the trees of the Ardennes Forest in Belgium. On landing his parachute became entangled in a tree and he knew he had very little time to cut himself free and hide in the forest because he knew the Germans would immediately be looking for the aircrew on seeing the explosion. With his RAF silk map and the help of local Belgians he was able to make it to Holland and into the hands of American forces who helped him back to England. Meanwhile his parents had been informed by telegram that he was missing and presumed dead. Ernie recounted a humorous story, that the first person he saw on his return to England was his sister-in-law, Ruby Morris and her 5 year old son Colin – she was working on a sewing machine with Colin beside her and when he tapped on the window, she screamed with joy that he was alive and well and to this day Colin still remembers the event.
Shortly after the war my dad received a gold tie pin in the shape of a silk worm with ruby red eyes that was given by the company that manufactured the silk parachutes to an airman that had saved their lives by parachuting. I always remember complete strangers coming up to my dad and excitedly asking him about what the story was about him receiving the tie pin. I still have the pin and a much better appreciation of what it means.
With the end of the war, Ernie stayed with the RAF and was stationed in Egypt and Palestine as part of the newly created country of Israel. Because his crew and so many of those stationed at 625 Squadron were Canadian, they were always speaking about how wonderful Canada was, so he decided in 1947 that he would emigrate to Canada and came to Toronto, Ontario the biggest city in Canada. When he came to Canada he had very little money and knew no one in the city but was able to get a job with Massey-Harris a farm implement manufacturer. Shortly after arriving he met his future wife Margaret who had also just arrived in Canada from Scotland where they were married and had one son, Robert. Ernie worked for over 40 years with Massey-Harris, later to become Massey-Ferguson and together Margaret & Ernie later retired to their summer cottage on the lake in an area very unique to Canada called Muskoka – they were able to spend their summers in Canada and winters in Florida. He is remembered as a person who was talented at whatever he chose to do; whether it was construction, mechanical, fixing things or investing. When he passed away in 2005, one of their neighbours said "it was the end of an era" – how true!
Ernie left his wife Margaret who passed away in 2011, his son Robert and his 2 grandchildren who he was very proud of – Ryan and Stephanie as well as numerous nieces and nephews in England.
As Ernie's son, I know I can speak for him and say that he would be extremely proud of his role in World War 11 and to be a part of the reconstructing of stories of the RAF and the 625 Squadron.
BURIAL DETAILS
None: All the crew survived.
THE MYSTERY OF THE PEDIGREE OF LANCASTER PD204
Early in my years of research for the 625 Squadron Project the serendipitous propinquity of the internet connected me with Peter Barcroft and John Naylor. They collaborated with the archive report on the loss of 625 Squadron Lanc LM546, Peter's grandfather, F/O Frank Collett was the pilot and John's father, Sgt. Lawrence Naylor, the mid-upper gunner. It is noteworthy that of the seventy-four aircraft and crew lost during the operational life of 625 Squadron that only three (4%) had no loss of life — PD204, 8 safe and LM546, 7 POWs, and Peter and John have contributed to both archive reports. Peter was the source of the photograph collection of Eileen Edge and her son Kevin Ball.
The third Squadron aircraft that failed to return without loss of life was Lanc PB815, struck by incendiaries from above (all 7 crew safe). Remarkably for F/O D.R. Page RCAF and his crew this would be their second time that they would owe their lives to their magic silk backpack, earning a rare 'Bar' to the Caterpillar Badge. Unfortunately their first bale out occurred on the 14 October 1944 op to Duisburg, just six minutes into the flight of Lanc LL956, as a result of an engine fire during the take-off roll beyond the abort point . F/O Lloyd Hannah RCAF was the pilot in command and Sgt. D.R. Page and his crew were on their first op with Sgt. Page as 'second dickie'. Sadly F/O Hannah and rookie bomb aimer, F/Sgt. Lloyd Douglas Bennet would lose their lives in the ensuing crash, with F/O Hannah at the controls and F/Sgt. Bennet baling out too late for his chute to deploy. Archive report on the loss of PB815 F/O Page and crew pending. JEA.
John Naylor provides an intriguing interpretation of the untitled photo below. After identifying the crew he could not resist the temptation of adding his analysis of the photograph below, taken with what purports to be Lancaster PD204: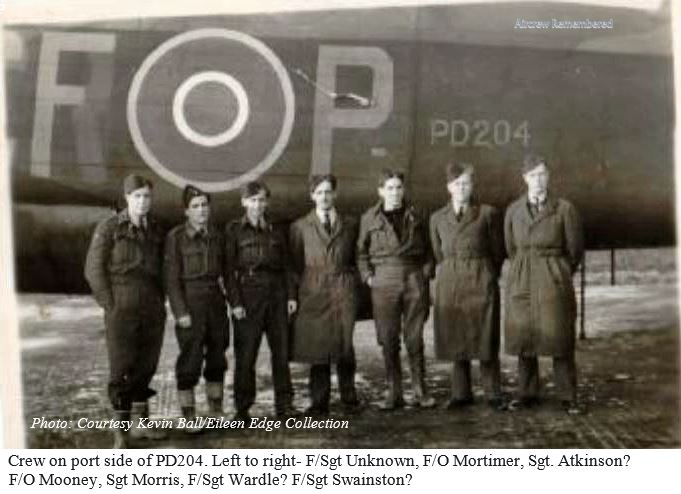 John Naylor's Analysis of the above photograph of PD204 is as follows:

'There is something not right about the PD204 Picture!
The photo of the crew with PD204 has posed some seemingly insurmountable questions. The AM Form 78, Aircraft Movement Record Card, (see below), for PD204 shows no link with 101 Squadron at Ludford Magna. The photo however clearly shows that it was taken against a Lancaster that had previously been coded SR-P, the SR being the squadron code for 101 Squadron. It can be seen that the SR has been painted over partially to incorporate CF, the Squadron code for 625 Squadron. This then makes it look as if the picture was taken before the loss of this aircraft CF-P over Belgium.
Unless there are serious flaws in the record keeping for this particular Lancaster, then the only other explanation is that perhaps the crew contrived this picture, AFTER their return from baling out over Belgium. It may well be that as they had all had a lucky escape, they wanted a picture taken with PD204 for their heirs and successors for future reference! It would then have been quite possible to pose in front of SR-P after they had temporarily changed the squadron code letters and aircraft serial number.
The reasons why they may have chosen to do this at Ludford Magna, (the home of 101 Sqn, and just down the road from Kelstern), is that at this time 625 Squadron was in the process of moving to Scampton, and by the time the crew got back to Kelstern, most of their own aircraft were either in transit, or had already moved. It could also be that they were not given authority to do this at Kelstern anyway, and it was done clandestinely? Perhaps we will never know.'
Movement record and service history of Lancaster PD204 compiled by Aircrew Remembered researcher Roy Wilcock: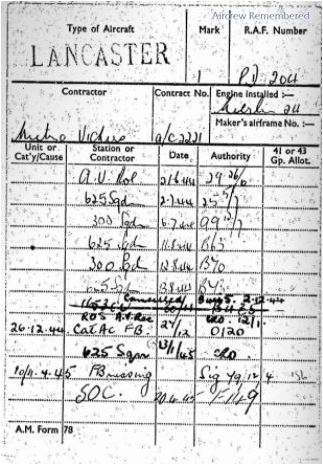 The Form 78 for Lancaster PD204 seen here on the right, shows that the Lancaster was delivered to 625 Squadron from A. V. Roe on 2 July 1944 but 4 days later was transferred to 300 Squadron and on 11 August returned to 625 Squadron. It would seem strange that throughout the five weeks that PD204 spent with 300 Squadron it did not fly on so much as one operation before being transferred back to 625 Squadron. The aircraft then flew on operations on the following dates until 26 December 1944.

Aug 1944 - 14, 15, 18, 25, 26, 29, 31.
Sep 1944 - 3, 5, 8, 10, 12, 16, 17, 20, 23, 27.
Oct 1944 - 5, 7, 11, 12, 14, 20, 23, 25, 28, 30, 31.
Nov 1944 - 2, 6, 9, 11, 16, 18, 21, 29.
Dec 1944 - 3. 4. 6, 17, 26.
The Form 78 also records that on 26 December 1944 PD204 sustained Cat AC damage as a result of a Flying Battle (FB) yet strangely, the 625 ORB makes no mention of any significant damage incurred by PD204 on 26 December or any other date.
The damage category AC indicates that 'Repair is beyond the unit capacity, but can be repaired on site by another unit or a contractor'. The necessary work is recorded as having been duly carried out by AV Roe on site and the Lancaster returned to service on 12 January 1945 (ROS - Repaired on Site).
The Squadron flew no operations in January 1945 after the 16th so PD204 did not fly operations again until February 1945 as follows:
Feb 1945 - 1, 3, 7, 8, 13, 14, 20, 23 - the Squadron flew no further ops in February 1945.
Mch 1945 - 2, 5, 7, 11, 12, 15, 16, 18, 22, 23, 25, 27, 31.
Apl 1945 - 3, 4, 9, 10 (FTR)
AFTERMATH
Following the Plauen attack of 10/11 April 1945, F/O Mooney and his crew would not participate in any more operational missions. However, F/O Rutherford and his crew would be included on the Battle Order for the symbolic 25 April day raid on Berchtesgaden, The Eagle's Nest or 'Hitler's Home'. Flying Lanc III ME524 this would include them in the last bombing mission by 625 Squadron—a fitting swan song!
During the closing days of the war, the Manna dropping operation was initiated to parachute food and supplies to starving Dutch citizens. On 30 April F/O Mooney and his crew, with Lanc I NF993, dropped their cargo at The Hague from a height of 300 feet! F/O Rutherford and crew took NF993 to Rotterdam on 1 May, successfully releasing their food supplies from 400 feet. On 7 May F/O Mooney DSO and crew and F/O Rutherford and crew revisited Rotterdam to successfully deliver their loads of food supplies.
Following war's end, Operation Exodus was introduced to expedite the repatriation of Prisoners of War. F/O Mooney DSO and F/O Rutherford and crews participated in this endeavour. On 11 May F/O Mooney DSO, in Lanc III PB580, safely returned twenty-four POWs from Brussels to RAF Dunsfold. On 26 May F/O Rutherford repeated this trip in PB580, concluding the Squadron's participation in this humanitarian effort.
DECORATION SUGGESTIONS.
1090512 F/Sgt G. Swainston: DFM, eyewitness accounts
1890687 Sgt E. Morris: DFM, eye witness accounts
Both these experienced members of PD204's crew played integral roles in the successful outcome of this operation with the search for night fighters, communication and coordination with their Skipper in conditions of prolonged IFR conditions—juggling hand grenades.
AUTHOR'S NOTES:
It was most fitting that the loss of Lancaster PD204 would mark 625 Squadron's last aircraft of seventy-four to be lost during the Squadron's eighteen months of operational service—with the survival of the entire crew and the awarding of the DSO to the Skipper and the DFC to his navigator. This was a remarkable feat considering that half the crew were rookies on their first operational flight.

To fully understand the actions and risks taken by F/O Mooney one has to consider the dilemma with which he was confronted early in the mission when he decided to continue to Plauen as detailed. This experienced pilot realised that regardless of the decision made PD204 would have to be sacrificed. The unusual oil leak from the front turret had reduced him to instrument conditions at night. The laws of physics dictate that what goes up must come down. In other words he was going to be confronted with the task of landing PD204 under these conditions. It is quite likely that he would have decided to have the crew bale out, set the auto pilot and follow suit with PD204 ending up on the bottom of the North Sea. He did not have access to the luxury of modern day computerised auto-land technology. With this in mind he elected to press on realising that he would be totally dependent on the skills of his navigator to guide him to target and the remainder of the crew to provide him a visual picture of the outside world that he was blind to. This pilot managed to persevere with this operation for approximately five and a half hours of hard Instrument Flight Rules (IFR) flying conditions as he was sequentially forced to address the failure of three engines, the bomb run, flak strikes and the timely decision to abandon PD204. In the end he still lost his aircraft but managed to bomb the target and save all souls on board. It truly is a fairy tale ending for the Squadron's last Lanc lost! His DSO was most deserved.
REFERENCES:
625 Squadron ORB
No. 625 SQUADRON DIARY OCTOBER 1943- SEPTEMBER 1945: Eric Thale (Unpublished)
Nachtjagd WAR DIARIES VOLUME TWO APRIL 1944 . MAY 1945: Theo Boiten and Roderick MacKenzie
RCAF Association Website
CO-AUTHORS:
John Naylor
Maureen Hicks
Reg Price DFC
Nic Lewis
Mike Edwards
Roy Wilcock (Aircrew Remembered)
Submission by Robert and Colin Morris (son and nephew of rear gunner, W/O Ernest Morris) and Jack Albrecht.