The History of 625 Squadron Losses
28/29.1.1944 No. 625 Squadron Lancaster I DV364 CF-D Fl/Lt. Spark DFC
Operation: Berlin
Date: 28/29th January 1944 (Friday/Saturday),
Unit: No. 625 Squadron (motto: 'We Avenge')
Type: Lancaster I
Serial: DV364
Code: CF-D
Base: RAF Kelstern
Location: Unknown - Lost Without a Trace (LWT)
Pilot: Fl/Lt. George Aytoun Spark DFC 155494 RAFVR Age ? Missing believed Killed
Fl/Eng: Sgt. William Henry Lyssington DFM 1804046 RAFVR Age 20. Missing believed Killed
Nav: P/O. Joseph Emmanuel Alves 170028 RAFVR Age 22. Missing believed Killed
Air/Bmr: P/O. Robert Latham MiD 54355 RAFVR Age 24. Missing believed Killed
W/Op/Air/Gnr: Sgt. George Bone 1131466 RAFVR Age ? Missing believed Killed
Air/Gnr: W/O II. Lewis Gerard Carson R/109991 RCAF Age 26. Missing believed Killed
Air/Gnr: P/O. Herbert John Watkins DFC 162607 RAFVR Age 21. Missing believed Killed
REASON FOR LOSS:
Of the seventy-four aircraft and crews lost by 625 Squadron, initially three fit into the category of unknown cause or lost without a trace. This meant that after take off there was no contact or information of their demise. The most likely scenario would have been significant damage from a Nachtjagd attack or flak resulting in an unwitnessed crash or ditching into a large body of water such as the North Sea, English Channel or Bay of Biscay. Alternatively a midair collision, navigational error or fuel starvation may have led to the same watery grave.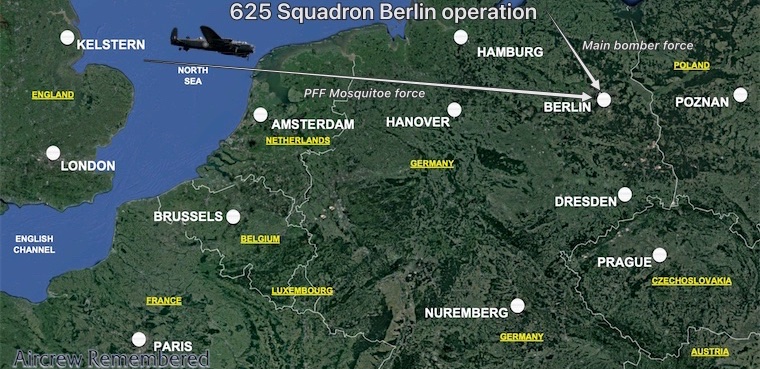 The three 625 aircraft included:
1. Loss No. 10 - DV364, Fl/Lt. Spark DFC and crew, 28/29.1.44, Berlin
2. Loss No. 42 - LM174, Fl/Lt. Harrison DFC and crew, 23/24.7.44, Kiel
3. Loss No. 53 - PB531, F/O. Morshead and crew, 23/24.10.44, Essen
However, Theo Boiten confirms that a Nachtjagd attack was the cause of the demise of LM174 along with Fl/Lt. Harrison and crew. Both he and Rod Mackenzie will be progressively publishing the comprehensive Nachtjagd Combat Archives in 12-15 volumes, by the end of 2020. This project will include documentation, including combat reports, to confirm aircraft and crew identification of many 625 Squadron losses. Suffice to say, evidence supports a watery grave as the final resting place for the brave young crew of LM174.
While serving with his crew at 1662 HCU, Fl/Sgt. G.A. Spark received authority to commissioned rank effective 2.6.43. On September 5th, 1943 he and his crew were posted to No. 100 RAF Squadron. At that time his crew included Sgt. E. Bates as navigator. On September 9th, 1943 W/O. C.V. Hodson and crew were posted from 1667 HCU to 100 Squadron. His crew included Sgt. J.E. Alves as navigator. On September 17th W/O. Hodson was posted to No. 12 Base as being non-effective, sick and the 'headless' crew was individually reassigned. Sgt. Alves would join P/O. Spark's crew to replace his original navigator. This newly melded crew initiated their operational career with a gardening trip to the Frisian Islands on 21/22.9.43. They then flew a 'second dickie' op on 22/23.9.43 with Fl/Sgt. Bowden to Munich to introduce them to the reality of combat operations. Between September 27th and October 8th they visited Hanover, Stuttgart and Hanover, uneventful with the exception of the latter Hanover raid when they had two close encounters with a Me 110 and a FW 190 over the target. On October 13th, 1943 P/O. Spark and crew were posted to No. 625 Squadron RAF Kelstern to form the nucleus of the newly formed Squadron. 'C' Flight of 100 Squadron was disbanded the next day.
It did not take long for P/O. Spark and his crew to be added to the Battle Order of their new Squadron. On 20/21.10.43 they took veteran Lanc R5702 to Leipzig for an uneventful op, their sixth and first with 625. Two nights later, 22/23.10.43 saw them off to visit Kassel for a trip that would test their mettle as a crew and give testimony to the rugged, indestructible R5702. The events of this evening would have lasting effects on this close knit combat unit:
The ORB indicates that they took off at 18:00 and landed at 25:50, but not at Kelstern, home Base: " Aircraft "B" Captain P/O. G.A. Spark, when 1/2 hour out the mid-upper turret went unserviceable, and the Flight Engineer Sgt. Lyssington went back and repaired the leaking pipe, but the turret remained unserviceable owing to oil shortage. The aircraft proceeded to the target but immediately after bombing was damaged by falling incendiaries, and at the same time a cannon shell pierced the fuselage port side seriously wounding the rear gunner, Sgt. R. Whittaker. The pilot evaded by a steep dive, and the Flight Engineer and Navigator went back and extinguished the incendiary. The Flight Engineer then cut away the rear turret doors, extricated the rear gunner, and strapped him on the bed. Owing to violent evasive action taken, the navigator's instruments and map were scattered and he plotted the course home by means of improvised dividers from a match stick and piece of string using a small scale outline map of Europe. The crew of this aircraft has been recommended for a Special Commendation. The rear gunner, Sgt. Whittaker, was admitted to Grimsby and District Hospital. This aircraft landed at Grimsby." It is presumed that the following decorations/awards resulted from this recommendation: DFC - P/O. Spark, DFM - Sgt. Lyssington and MiD - P/O. Latham.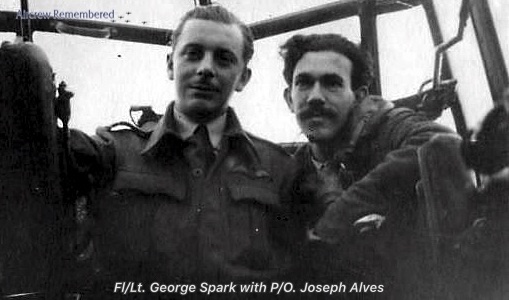 It is puzzling that the navigator was not recognised for his actions during this op. After helping to extinguish the fire, he discovered that his maps were reduced to burnt fragments by cannon shells and dividers lost due to evasive action. As a result he was forced to use his ingenuity and navigational skills to guide them safely home - perhaps a touch of colonial discrimination. The photograph of Fl/Lt. Spark and his navigator, presumably taken just after this raid, indicates a tight bond, for good reason! (R5702 would be repaired and back into the fray of battle one month later. Rejuvenated, this combat hardened Lanc would make seven more trips to Occupied Europe. She would not return from the eighth with Sgt. Ashurst and crew but even then she did go easily into the night. (AR Archive Report pending)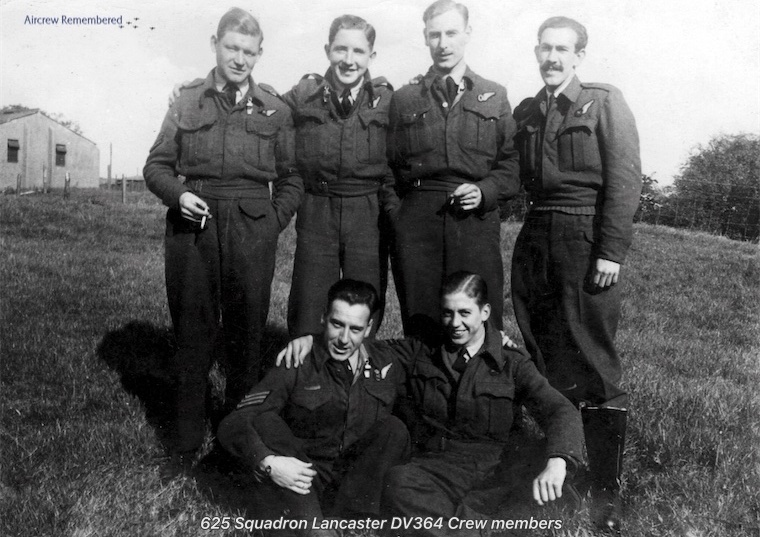 Above L-R: Rear - Sgt. Lyssington, Air Gunner ? Sgt. Latham, P/O Alves. Front - Sgt. Whittaker, Sgt. Bone. It is thought the photograph may have been taken by Fl/Lt. Spark.
On 10/11.11.43 P/O. Spark and crew had an uneventful op to Modane. Fl/Sgt. H.J. Watkins would fill the position of rear gunner in the absence of Sgt. Whittaker. Between 18/19.11.43 and 26/27.11.43 the Spark's crew would visit the Big City on three occasions. By this time Fl/Sgt. Watkins had become their regular rear gunner. It is noteworthy that on the last two raids that the crew had the rather unusual addition of a second navigator, Fl/Sgt. A. Henry and Sgt. C.H. Bancroft, respectively. It is rather obvious that they were included to acquire some tricks of the the trade from P/O. Alves. With the exception of the last op, "Busy time avoiding searchlights", they were uneventful. On 3/4.12.43 P/O. Spark and crew bombed Leipzig through 10/10th cloud. Between 23/24.12.43 and 2/3.1.44 they returned to Berlin for three more trips. The first had Sgt. J. Coxhead in the rear turret and was challenging due to "technical difficulties". The second was uneventful. The third proved a challenge for this seasoned crew. According to the ORB: "…On route to target AI (Airspeed Indicator) went unserviceable gradually with result to maintain speed, height was lost but recovered after half an hour…Aircraft and port outer engine damaged by flak on the homeward route." On 14/15.1.44 P/O. Spark and crew were detailed to attack Brunswick. ORB comment indicates that survival depended on constant vigilance: "On run up got close proximity of another Lancaster immediately above necessitated a quick change of course." On 27/28.1.44 they returned to the Big City: "We had a quiet trip". The calm before the storm. Their next trip to Berlin on 28/29.1.44, in DV364, CF-D, was their eighteenth as a crew and their 'thirteenth' since joining 625 Squadron - it was to be their last.
This op, detailed as a Pathfinder Helper, was to be their last before a well deserved leave, followed by a posting to Pathfinder Force.
ORB: Berlin - Failed to return. Nothing heard after take off at 23:54 hours. P/O. H.J. Watkins had flown his last five ops as an officer in the rear turret.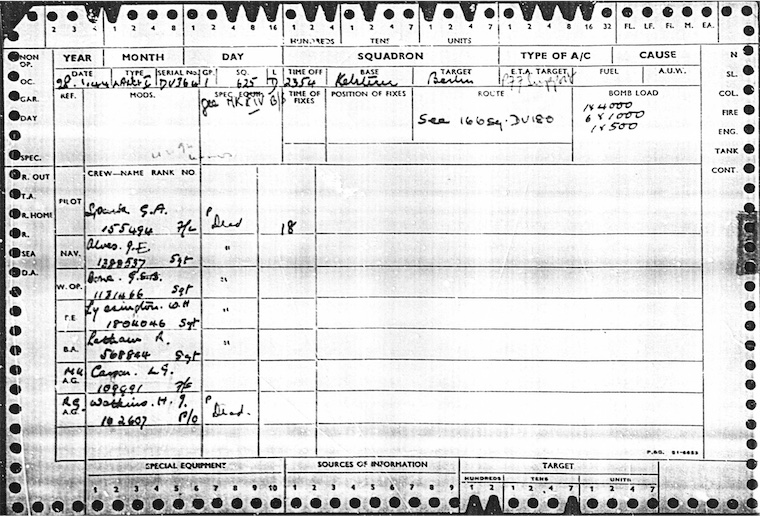 Lancaster I DV364 Loss card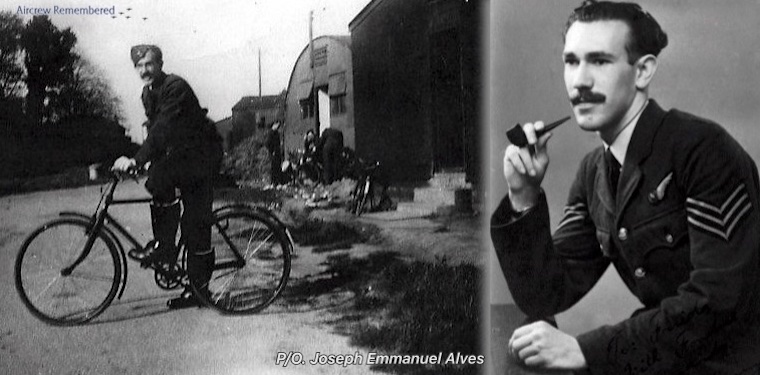 Suggested Decorations:
155494 Fl/Lt. G.A. Spark DFC: Presumed KIA, Bar to DFC.
1804046 Sgt. W.H. Lyssington DFM: Presumed KIA, Bar to DFM.
54355 P/O. R. Latham MiD: Presumed KIA, DFC.
170028 P/O. J.E. Alves: Presumed KIA, DFC.
1131466 Sgt. G. Bone: Presumed KIA, DFM.
R/109991 W/O II L.G. Carson: Presumed KIA, DFM.
162607 P/O. H.J. Watkins DFC: Presumed KIA, Bar to DFC.
BURIAL DETAILS:
Fl/Lt. George Aytoun Spark DFC. Runnymede Memorial: Panel 203. No further details - are you able to assist?
Sgt. William Henry Lyssington DFM. Runnymede Memorial Panel: 233. Son of William and Letty Lyssington, of Basingstoke, Hampshire, England.

P/O. Joseph Emmanuel Alves. Runnymede Memorial: Panel 210. Son of Mr. and Mrs. Jeremiah Alves of St. Kitts, BWI and husband of Margaret Alves, of Chadwell Heath, Sussex, England.
He was born on the West Indian island of St Kitts on 1st January 1922 to Mr and Mrs Jeremiah Alves, the youngest of 3 children, Bridget, Lilian and Joseph. He was usually known as "Sonny" to family and friends His father was a Merchant based in the capital, Basseterre, and whose family originated on the Portuguese island of Madeira.
Grew up in the family home in Basseterre and attended The Convent High School where he left holding a Senior Cambridge Certificate in 1940.
Sister Lilian later told me that he was convinced that air travel would become an essential part of inter-island transport which may have influenced him to volunteer to join the RAF early in 1941.
He left St Kitts on March 17th 1941 to join the RAF Volunteer Reserve where he trained in both England and Canada before joining his first Squadron as an Air Navigator after completing 1667 Heavy Conversion Unit training at RAF Lindholme.
There is a memorial to those aircrew who trained at 1667 HCU at Faldingworth.

After his training with HCU, on 17th September 1943 he joined the crew of Fl/Sgt George Spark as navigator, a crew he would fly with for the remainder of his service in both 100 and 625 Squadron's.
Five days after the Kassel raid mentioned above, on 27th October 1943, he was married in the Parish Church of St James in Grimsby to my mother Elsie Margaret Alvey in a ceremony witnessed by two members of the crew, George Spark, the Pilot and William Lyssington, the Flight Engineer. The ceremony was performed by the vicar, who was aptly named Norman Lancaster.
He flew a total of 18 operations over Germany and occupied Europe including 8 to Berlin. His final operation was on 28/29th January 1944. Nothing was heard of the aircraft after take off.
My mother never spoke much about him, I don't think she ever fully got over his death even years later. I did take her to St Kitts in 1989 where the old family house on the corner of Central and College Street still stood, just across the road from the St Kitts and Nevis Government Headquarters. I was unable to find Prickly Pear Property on Bone Street, another family property.
Commemorated on the Basseterre War Memorial which overlooks Basseterre Bay as well as on the Runnymede RAF Memorial in England and the International Bomber Command Memorial in Lincoln.
I met his sister Lilian who was living in Aruba back in 1963 when I was a Deck Apprentice in the Shell Tanker Fleet. Her husband was loading master at the oil refinery and he told me that he always asked the Captain of any Shell tanker visiting if I was on board. However, my uncle was ill and not at work when my ship arrived.
Aunt Lilian told me how my father was absolutely sure of the future of inter-island air transport and that he intended to be a part of it. She heard him on a BBC broadcast to the West Indies in October 1943 and said that he had almost lost his Island accent and now spoke in "BBC" English. Even then she had hopes that he might just turn up, so my unannounced appearance was a bit of a shock, particularly as I looked like my father when she last saw him.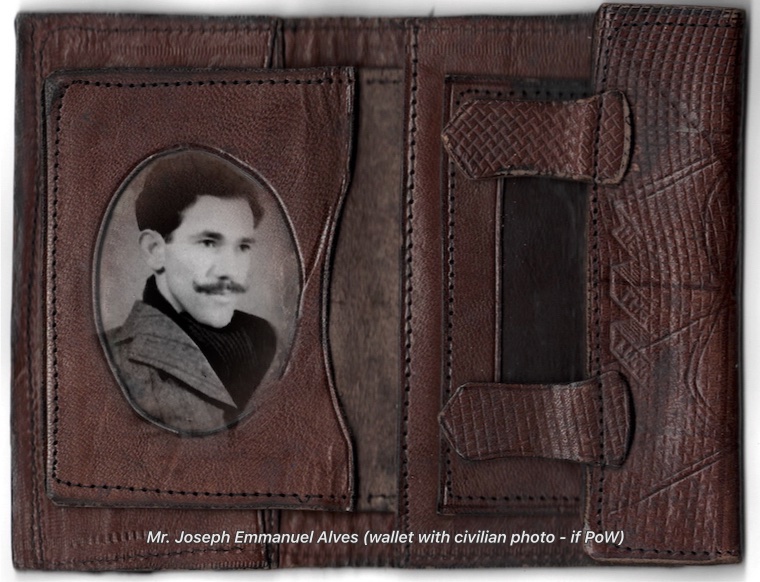 P/O. Robert Latham MiD. Runnymede Memorial: Panel 211. Son of Gerald and Mary Elizabeth Latham; Husband of Betty Diane Latham, of Totton, Hampshire, England.
Sgt. George Bone. Runnymede Memorial: Panel 225. No further details - are you able to assist?
W/O. II Lewis Gerard Carson. Runnymede Memorial: Panel 254. Son of James Lewis and Millie (deceased) Carson of Mount Elgin, Ontario.
Lewis Carson was born on December 8, 1918 at Mossley, Ontario. With a grade eight education and a machine shop practice course, he served as a private with the Second Kents. After nine months he transferred to the RCAF., volunteering for ground duties as a machinist or guard. Unfortunately, the ravenous appetite of Bomber Command would supersede his wishes and it would cost him his life.
P/O. Herbert John Watkins DFC. Runnymede Memorial: Panel 213. Son of Henry and Ivy Leonora Watkins, of Woolwich, London, England.

Runnymede Memorial:
"The struggle for control in the air lasted through the war, costing the lives of more than 116,000 men and women of the Air Forces of the Commonwealth.
The memorial commemorates those airmen and women who died in western Europe and have no known grave. They came from all parts of the Commonwealth and served in Bomber, Fighter, Coastal, Transport, Flying Training and Maintenance Commands. Some were from countries in continental Europe which had been overrun but whose airmen continued to fight in the ranks of the Royal Air Force.
The site overlooks the River Thames and the riverside meadow where the Magna Carta was sealed by King John on 15 June 1215. The land on which the memorial stands was donated by Sir Eugen and Lady Effie Millington-Drake in 1949.
The memorial was unveiled by Queen Elizabeth II on 17 October 1953 and the text of her dedicatory address, some of which is reproduced, is displayed inside the entrance. The Queen returned to mark the memorial's 50 years as a place of commemoration and remembrance on 17 October 2003."
It is understandable that the limitation of space on this remarkable monument prevented the inclusion of pertinent information such as age, rank, next of kin and in particular, a heartfelt, on the Commonwealth War Graves Commission website. It is most unfortunate that families were deprived of the opportunity to provide a parting message to their loved one, simply because they had no known grave. It is almost as if their lives were of less value than those whose remains were located, identified and laid to rest at a known site. It would not be unreasonable for the Commonwealth War Graves Commission to amend their records for Runnymede Memorial listings to include a belated inscription from surviving relatives. Nothing ventured, nothing gained.
REFERENCES:
Pete Alves-Pearson/ P/O Alves Family Collection.
625 Squadron ORB.
Commonwealth War Graves Commission Website.
Library and Archives Canada/ancestry.ca Website:
Canada, WW II Service Files of the War Dead, 1939-1947.
Submission by Pete Alves-Pearson, Jack Albrecht and Nic Lewis.
Co-authors, John Naylor and Maureen Hicks. Reg Price DFC. Surviving 625 Squadron vet - flew on this op but task abandoned at 01:45. The port outer engine became u/s and could not climb more than 16,000 feet. Bombs jettisoned safe into the Sea.Operation: Berlin.
© 2004-2021 John Albrecht