20/21.07.44 No. 405 Squadron Lancaster III PB174 LQ-P F/L Virtue
Operation: Bottrop
Date: 20/21 July, 1944
Unit: No. 405 Squadron
Type: Lancaster III
Serial: PB174
Code: LQ-P
Base: Gransden Lodge
Location: Crashed at Reutum (Oberijssel)
Pilot: F/L James Denholm Virtue J7905 RCAF Age 28 Killed (1)
Fl/Eng: Sgt Patrick Neil Gilbert 1582850 RAFVR Age ? Killed (2)
Nav: F/O Joseph John Raymond Johnson J24921 RCAF Age 31 Killed (3)
Air/Bmr 1: F/O Vernon Fairbank Dodds J89743 RCAF Age 23 Killed (4)
Air/Bmr 2: F/O Anthony Gerard McCarthy 169703 RAFVR Age ? Killed (5)
W/Op/Air/Gnr.: P/O Alfred Joseph Britts J88665 RCAF Age 28 Killed (6)
Air/Gnr: Sgt. Thomas Davenport 1354430 RAFVR Age ? Killed (7)
Air/Gnr: Sgt: Michael Stanley Stoyko R167132/J89061 RCAF Age 28 Evader (8)
INTRODUCTION
By this stage of the war Bomber Command strategists were transitioning from area to precision bombing tactics, with increasing emphasis on accurate target marking by Pathfinder Force crews. This was essential to minimise civilian casualties with targets located in the Occupied European countries. Lessons learned from previous catastrophic raids dictated that more than one target was selected, long course legs over enemy territory with moonlight avoided and diversionary raids were essential to minimise losses to the deadly Nachtjagd crews. Despite these precautions losses could still be devastating as was exemplified with one of the targets on this evening.
The Battle Order for the July 20/21 1944 bombing operations was complex and included a total of 971 aircraft, including a mix of heavy bombers and Mosquitoes:
COURTRAI, 302 Lancasters and 15 Mosquitoes to attack the railway yards and 'triangle' rail junction. Targets 'were devastated'. 9 Lancasters lost.

BOTTROP, 166 aircraft to attack the synthetic-oil refinery. Northern part of target badly damaged. 7 Halifaxes and 1 Lancaster (PB174) lost.

HOMBERG, 147 Lancasters and 11 Mosquitoes to attack the oil plant. Severe damage. However, German night fighters infiltrated this force and 20 Lancasters (12.7%) paid the price. 75 (New Zealand), from Mepal lost 7 of 25 (28%) aircraft detailed! A most sobering consideration for surviving Squadron mates. With such a sustained loss rate their life expectancy would be three to four ops, and the Holy Grail of thirty unattainable.

V-WEAPON SITES, 87 aircraft to attack the sites at Ardouval and Wizernes. Without loss. 23 bombed Ardouval and none Wizernes!

SUPPORT AND MINOR OPERATIONS, 106 aircraft from training units on a diversionary sweep over the North Sea, 6 Lancasters and 5 Mosquitoes on a 'spoof' raid to Alost, 26 Mosquitoes to Hamburg, 33 RCM sorties, 42 Mosquito patrols, 8 Stirlings mine-laying off Lorient and 17 aircraft on Resistance operations. 1 Mosquito lost from the Hamburg raid.
Analysis of the Nachtjagd response to these raids indicates that the diversionary force did not deceive the German controllers and the Courtrai and Bottrop forces were not seriously impacted. However, the Homberg component was a different matter with the controllers deducing the target nine minutes before the first target indicators went down. Elements of five Tame Boar Gruppen were infiltrated into the bomber stream and a heavy toll was taken en route to the target and on the return journey.
The Nachtjagd would lose six aircraft during the course of the evening, with six airmen killed and nine injured. Ofw. Karl-Heinz Scherfling, victor in 31 night air combats, and his air gunner, Fw. Winkler, would pay the ultimate price, falling to the guns of a 169 Squadron Mosquito piloted by the CO, W/Cdr. Bromley. One other Nachtjagd ace would almost suffer the same fate, but under much different circumstances.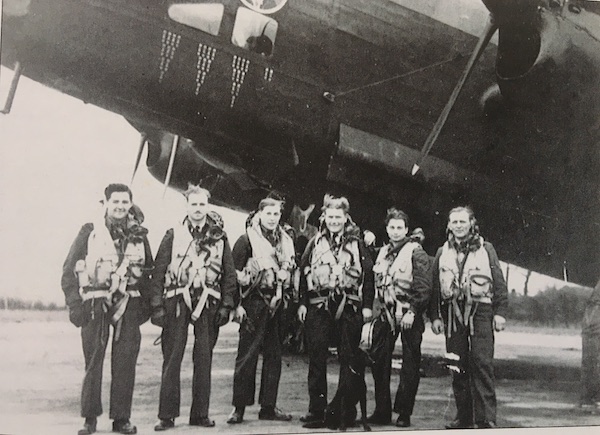 F/L James Virtue and crew with a 419 Squadron Halifax. l. to r.- F/O Johnson, F/L Virtue, ? P/O Britts, Unknown, P/O Dodds and F/Sgt. Stoyko. Courtesy M. Klaassen.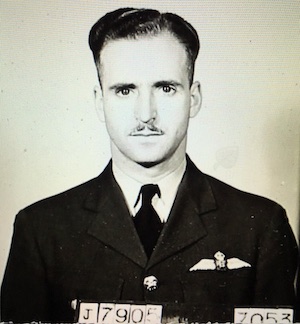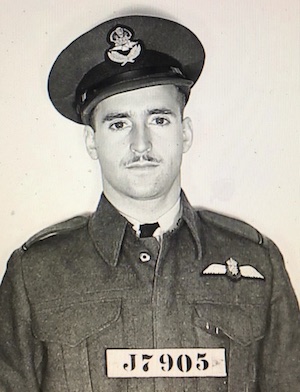 F/L Virtue. Courtesy LAC/Ancestry.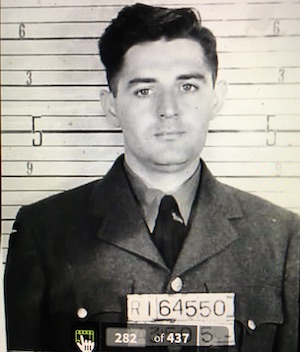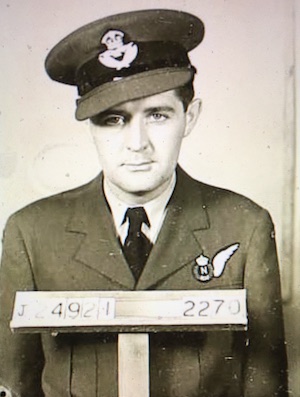 F/O Johnson. Courtesy LAC/Ancestry.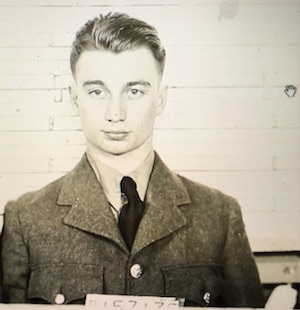 P/O Dodds. Courtesy LAC/Ancestry.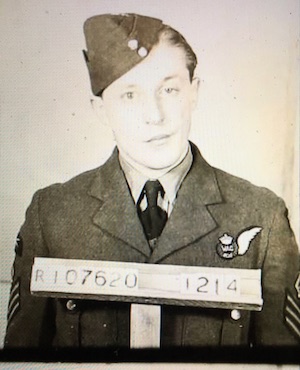 P/O Britts. Courtesy LAC/Ancestry.
REASON FOR LOSS: THE CHOP
F/L James Virtue and his veteran crew would find their names on the Battle Order for the Bottrop raid. With twenty-eight or twenty-seven ops in their log books this crew was on the verge of tour expiring. F/O Anthony McCarthy, the second air bomber, was included in the crew to refine his skills.
With F/L Virtue at the controls, Lanc PB174 became airborne at Gransden Lodge, time up 23.40. The flight was uneventful until twenty minutes from the target.
Sgt. Michael Stoyko, the rear gunner, was the sole survivor from this loss. In a letter dated 4th December 1945 to F/L Virtue's mother from the RCAF Casualty Officer, F/O Stoyko's statement provided after his liberation, was included:
"At about 0045 hours on 21st July, as we reached the turning point into the Ruhr, about twenty minutes from our target, our aircraft suddenly exploded and the turret in which I was situated was blown free and I succeeded in extricating myself, pulling the release cord of my chute.

I landed somewhere in Holland, and started working West (sic), succeeded in contacting the underground who hid me for six weeks in the neighbourhood, and subsequently moved me to Hengelow (sic) where I stayed until the 3rd April, 1945 when I was liberated.

A Doctor in Tubbergen, Doctor Nikels, advised me that parts of the aircraft had landed all over the place within a radius of about five kilometres. He stated that Flight Lieutenant Virtue, Flying Officer McCarthy and Sergeant Davenport had been identified and they were buried in separate graves in the Churchyard at Tubbergen. Prior to liberation I visited their graves and saw that their names were on the graves. There was also a fourth grave in which I was told that the remaining members of the crew were buried.

I am practically certain that all of the other members of the crew of the said aircraft were killed in the accident. There is no doubt in my mind that the aircraft was completely exploded. The turret in which I was located was blown horizontally for a great distance and that is why I was able to get out and when I landed I saw the green target indicators of the aircraft burning on the ground.

I was subsequently advised that the explosion had occurred as a result of a German Heinkel having collided with our aircraft. We had been carrying a 4000-pound bomb and this bomb exploded on the collision."
It is noteworthy that the opening and closing statements of F/O Stoyko's account were omitted in this letter:
STATEMENT OF MICHAEL STANLEY STOYKO

466 GALLOWAY STREET, WINNIPEG, MANITOBA.

1. Prior to my retirement from the Royal Canadian Air Force on 3rd October, 1945, I was a Flying Officer and my number was CAN.J89061.

2. In the month of July, 1944, I was attached to No. 405 Squadron, and at 2300 hours on 20th July, 1944 I was in a Lancaster Bomber which left on a bombing raid to Hanborn (sic). I acted as Rear Gunner. The Pilot of the aircraft was F/L J. Virtue, RCAF, F/O C. McCarthy, RAF, was the Visual Bomb Aimer, P/O V. Dodds, RCAF, was a Bomb Aimer, F/O R. Johnson, RCAF, was Navigator, P/O Allen Britts, RCAF, was Wireless Air Gunner, Sgt. Davenport, RAF, was Mid- Upper Gunner and Sgt. Gilbert, RAF, was Engineer...

7. None of the other crew members, other than the pilot, F/L Virtue would have had any opportunity of baling out as F/L Virtue and I were the only two members of the aircraft who were equipped with seat type parachutes. The other crew members had the observer type parachutes and the explosion occurred almost instantaneously and consequently they would have had no opportunity whatsoever of attaching their parachutes.

Michael Stanley Stoyko

Squadron Leader G.S. Halter (C.14253)
Witness
It is also significant that F/O Stoyko was the regular mid-upper gunner of this crew and Sgt. Davenport, the rear gunner. For this raid they had reversed turret positions. If not for this last minute change it is quite likely that the entire crew would have perished.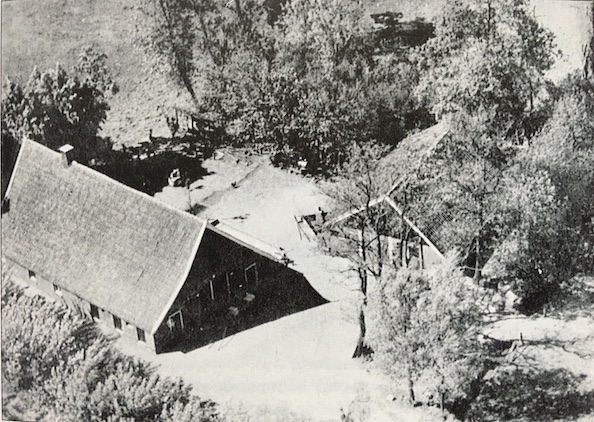 Koopman family farm where fragments of PB174 rained down after the explosion. Courtesy M. Klaassen.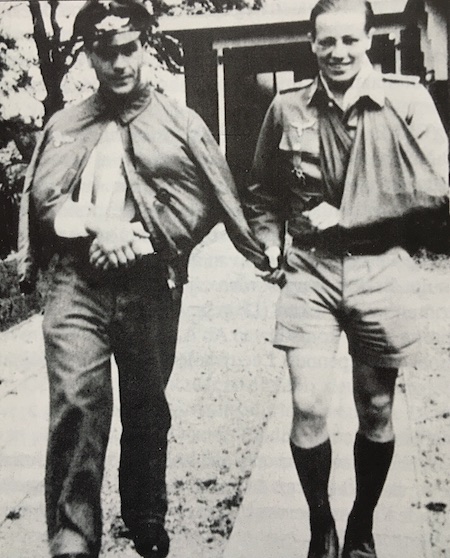 Erich Handke and Martin Drewes leaving the first aid station after receiving care following the crash of their night fighter between Tubbergen and Reutum. Obviously happy to be alive! Courtesy M. Klaassen.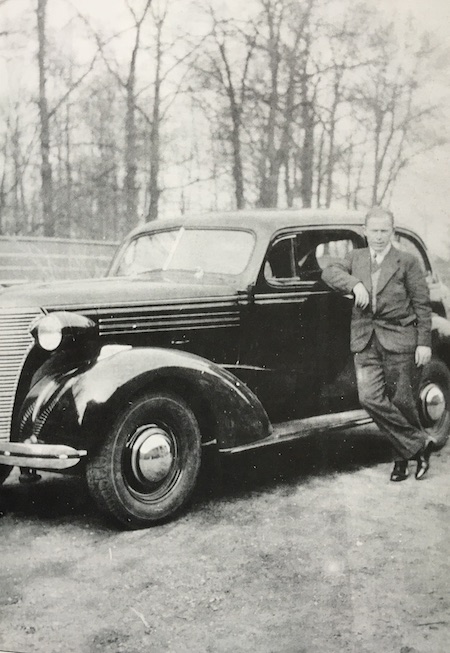 Dr. Nikkels, veterinarian and resistance fighter from Tubbergen. Courtesy M. Klaassen.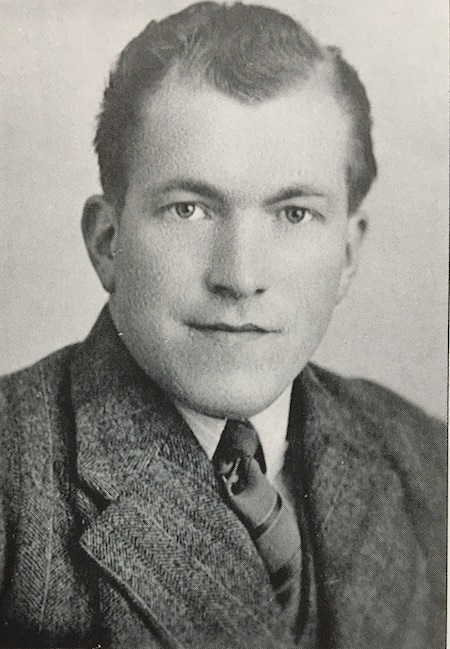 Hendrik Kooiker, the man who brought Sgt. Stoyko to Hengelo. Courtesy M. Klaassen.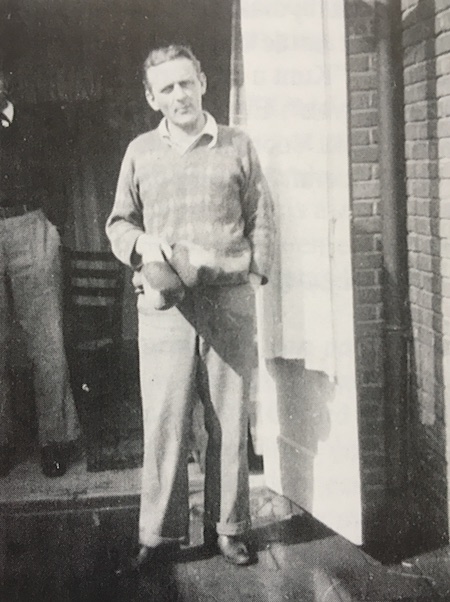 Sgt. Stoyko at his hiding place in Hengelo, home of the Memelauer family. Courtesy M. Klaassen.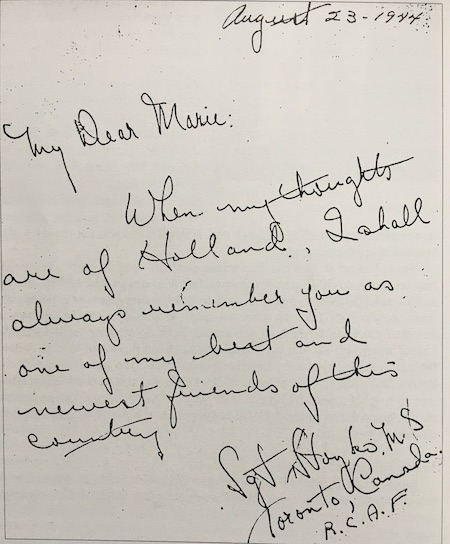 Letter written by Sgt. Stoyko to Marie Kroeze, from her album. Marie was the sister of Jan Kroeze in Hengelo who escorted Stoyko to his hiding place. Courtesy M. Klaassen.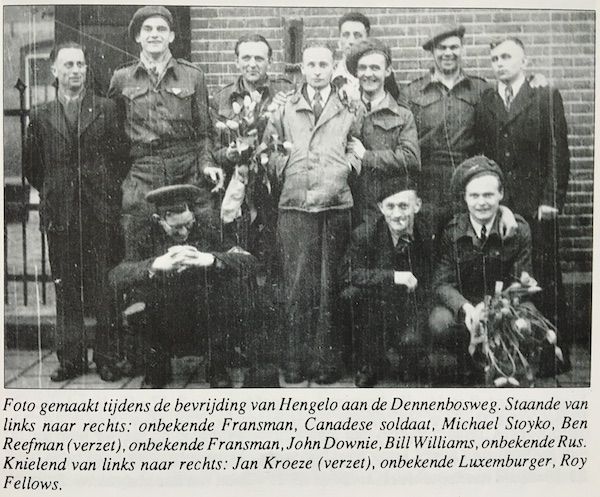 Photo taken during the liberation of Hengelo at the Dennenbosweg. Standing l. to r.- unknown French man, Canadian soldier, Michael Stoyko, Ben Reefman (resistance), unknown French man, John Downie, Bill Williams, unknown Russian. Kneeling l. to r.- Jan Kroeze (resistance), unknown Luxumburger, Roy Fellows. Courtesy of M. Klaassen.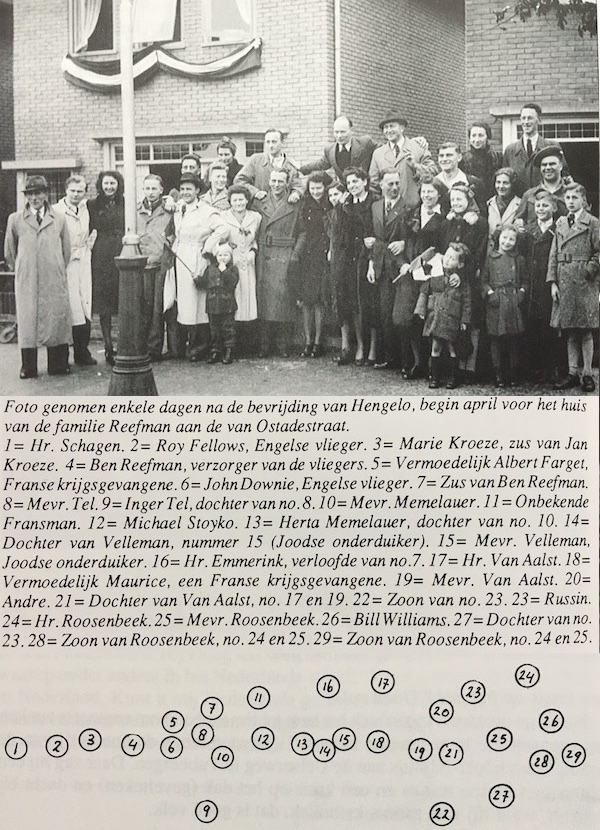 Photo taken several days after the liberation of Hengelo, at the beginning of April in front of the Reefman family home. Numbers correspond to the names below the photo. 1-29. Courtesy of M. Klaassen.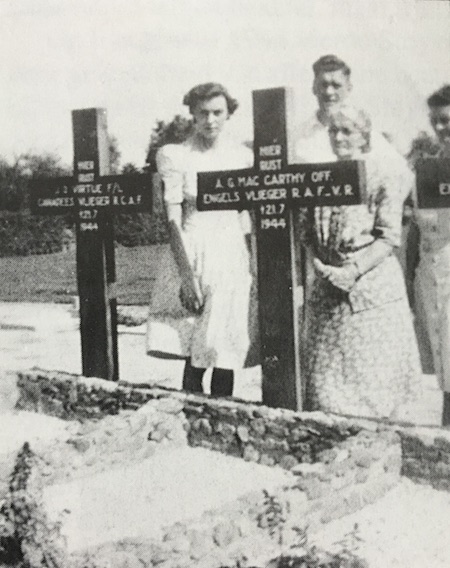 The family of F/O Anthony McCarthy just after the war at his grave in Tubbergen. Courtesy of M. Klaassen.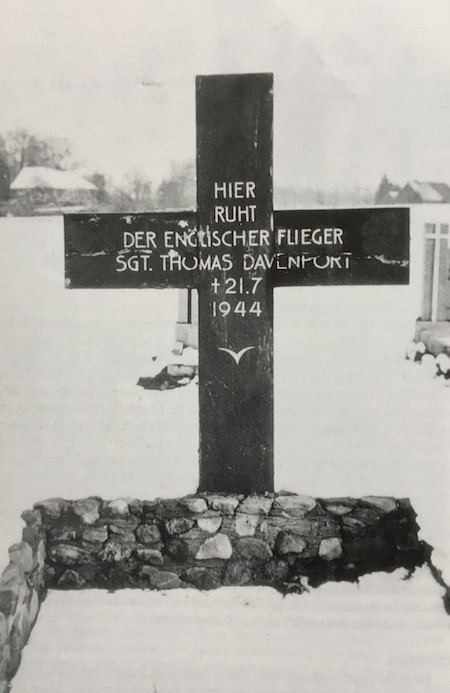 Mid-upper gunner, Sgt. Thomas Davenport's grave. Circa 1944-45. Courtesy M. Klaassen.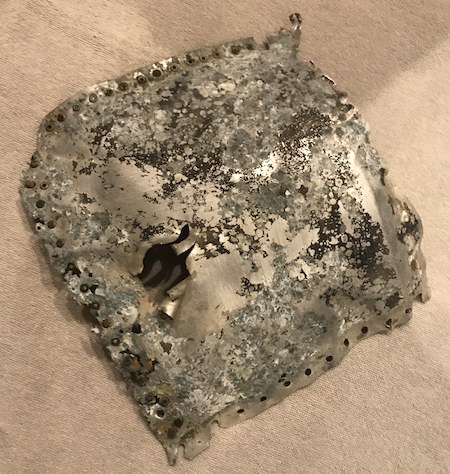 Debris with bullet hole found at the crash site of PB174. Courtesy M. Veldhuis.
However, it would be six decades after this event that the belated combat report of Hptm. Martin Drewes would reveal the actual events.
Early in the morning of July 21, 1944, Hptm. Drewes and his crew, Uffz. Erich Handke and Obfw. Georg Petz, became airborne from the Leeuwarden airstrip in their Bf 110 G-4, equipped with SN2 Airborne Interception radar and the 20mm cannon variant Schräge Musik weapon system. He was a Nachtjagd Experte with forty-six victories to his credit. Little did they realise as they climbed in the inky night that this was going to be a most eventful sortie for themselves and two RAF heavy bombers.
It was not long before their radar operator detected the tell-tale blips of the bomber stream on his SN2 screen. In short order he had vectored his 'driver' to visual contact with an unsuspecting Halifax that was dispatched in flames, time: 01.11. 578 Squadron Halifax III, MZ511 (LK-M), crashed near Oldebroek. Two of the crew managed to bale out, F/O K.C. Parsons (evader) and P/O J. Smith (POW). Five lost their lives and were buried in the Heerd General Cemetery, F/Sgt. T.R. Gunn, F/L A.T. Hope-Robertson, Sgt. G. Johnson, F/Sgt. D.F. Jones and F/Sgt. G.H. Jones.
In the process of being vectored to a second radar 'hit', a vigilant Hptm. Drewes observed a Lancaster converging from the starboard beam, a mere thirty metres higher! Instinctively, he swung into attacking position below the Lanc's port fuel tanks and announced his intention to his crew. Despite their warning that he was "too close", he had already commenced firing.
At that precise moment the Lanc initiated an abrupt bank to port. As a result the 20mm cannon stream disappeared into the fuselage and bomb bay! Before Hptm. Drewes could stop firing and take evasive action they were blinded by brilliant multi-coloured explosion and rocked by an incredible, concussive blast.
Hptm. Drewes found himself in a totally unresponsive aircraft, with a shattered canopy — in a steep dive. The control surfaces had been amputated or incinerated by the blast. Realising their situation was futile he gave the order to bale out, released his seat belt and was sucked free by the slipstream.
He found himself free falling amidst the flaming debris of his victim, with a functionless left arm and impaired vision. Fearful that his chute would be collapsed by the debris he delayed deployment to the last moment, unaware of his low altitude, time: 01.20.
405 Squadron Lancaster PB174 (LQ-P) crashed at Tubbergen with seven crewmen losing their lives. Sgt. Michael Stoyko, rear gunner, was the sole survivor and evaded capture.
The destruction of Halifax MZ511 and Lancaster PB174 would mark Hptm. Martin Drewes' forty-seventh and forty-eighth claims. However, as a result of his prolonged injuries from this encounter, he would only score one more night victory before war's end. He survived the war and emigrated to Brazil. He died at Blumenau, Brazil, age 94.
AFTERMATH
Hptm. Drewes and his crew mates landed in adjacent fields, regrouped and walked to a nearby farmhouse for assistance. He received first aid by the local doctor for his wounds and they were picked up a little later and returned to their base. Interestingly the timing of their attack on PB174 was determined to be 01.19 local time as Obfw. Petz's watch had been frozen in time by a shard of shrapnel!
It appears that Sgt. Stoyko was incredibly fortunate in his sudden, explosive ejection from the wreckage of PB174, mid-air at 20,000 feet without oxygen—without significant injury, losing one flying boot in the process!
He landed safely and after wandering most of the evening he approached a farmhouse, with battle damaged clothing and missing a boot. He was invited inside, asked for some food and presented the occupants with an escape card with the following inscription: Kunt u mij verbergen. Ben ik in Nederland. Kunt u mij Nederlands geld geven. (Can you hide me. Is this the Netherlands. Can you give me Dutch money.) The family provided him with some sandwiches. He informed the family that the rest of the crew were "All dead" and then left.
After further wandering he sought help again at a farmhouse with a cross at the gable. Being a Roman Catholic he hoped to receive help at this home. His intuition was rewarded and after a brief deliberation this family decided to help him, incorporating him as part of the family with lodging and various jobs on their farm. Neighbours were informed that he was a relative from afar.
In order to establish contact with an escape line he was moved to a residence in Hengelo. However, Operation Market Garden disrupted the escape line. On several occasions he was able to visit the family at Tubbergen. After several challenging encounters he was eventually liberated at Hengelo on April 3, 1945. Several days later he returned to England and subsequently was repatriated to Canada.
Michael Stoyko died on April 12, 1979.
A letter of inquiry from RCAF Headquarters in Ottawa from G/C W.A. Dicks to the Officer Commanding, No. 2 Missing Research and Enquiry Unit, Royal Air Force, c/o British Army of the Rhine, provides insight of the difficulty encountered in attempting to determine the fates of the crew of Lancaster PB174. It is stated that seven of the crew are Missing Presumed Dead and that F/Sgt. M.S. Stoyko is Safe.
In addition the Official German Totenliste No. 234 reports that a Lancaster was shot down on July 21/44 and the following were buried on the 24th July in the Parish Cemetery at Tubbergen.
Unknown Airman - Grave #7

Davenport, Sgt. 1354430 - Grave #8

McCarthy, A.G. 168703 - Grave #9

Virtue, J.D. J7905 - Grave #10
KE9303 stated that a Lancaster was shot down at Haarle, 10 kms N.W. of Oldenzaal in the district of Tubbergen on 21st July 1944 at 0115 hrs. It was stated that the identification of Sgt. Davenport and F/O McCarthy was by means of identity discs and that of F/L Virtue was by means of an R.A.F. document. A description of the unknown states that he was so badly mutilated that no means of identification, other than that he was auburn haired, could be established.
One member of the crew, F/O Stoyko M.S., rear gunner of this aircraft stated...Prior to liberation, he visited the graves of Virtue, McCarthy and Davenport and saw their names on the graves, and also a fourth grave in which he was told that portions of the bodies of the other crew members which had been picked up after the accident had been deposited.
F/L L.G. Sceal, Commanding 2872 RAF Regiment visited the Parish Cemetery and the Burgomeister's office and submits the following information:
"that the clerk to the Burgomeister's office, Mr. H.A. Kooiker of Dourningen, 39 Hengelo, states that he saw the Lancaster blow up after a German fighter had collided with it at about 8000 feet (sic,?metres). The remains of the bodies, after the explosion and subsequent burning were such that identification of complete bodies was impossible except where identity discs were found. Mr. Kooiker, himself hid F/O Stoyko, who escaped by parachute from the aircraft. Mr. Kooiker believes that other members of the crew did escape from the aircraft because there were knocks on the doors of various houses during the night of 21st/22nd July, but the occupants were afraid to answer them because of the curfew."
Request was made of the investigators to confirm the burial place of Davenport, McCarthy and Virtue at Tubbergen, to ascertain the identity of the unknown and to locate the burial place of the remainder of the crew. It is possible that they may all be buried in the unknown grave at Tubbergen.
Final confirmation of the fate of the four missing crew members of PB174 was contained in a letter to the father of the navigator, F/O J.J.R. Johnson, dated June 18, 1948, from W/C W.R. Gunn, R.C.A.F. Casualties Officer:
"Exhumation of the graves at the Tubbergen Cemetery revealed that the seven remaining members of the crew including your son, had been buried there. Most unfortunately individual identification could not be obtained of your son, Pilot Officer V.F. Dodds (Bomb Aimer), Pilot Officer A.J. Britts (Wireless Operator) or Sergeant R.N. Gilbert, RAF (Flight Engineer) and they are resting in a Communal Grave registered in their names and numbered 7. Flight Lieutenant J.D. Virtue (Pilot), Flying Officer A.G. McCarthy, RAF (2nd Bomb Aimer) and Sergeant T. Davenport, RAF (Air Gunner) are resting beside them in Graves No. 10, 9 and 8 respectively..."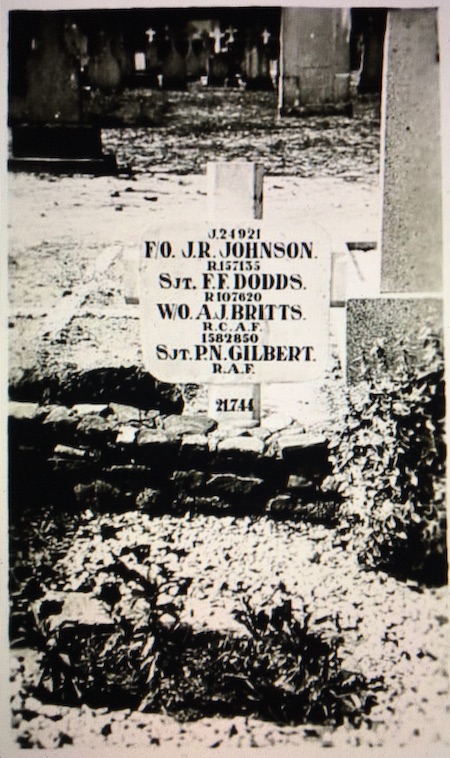 Early Communal Grave, Tubbergen, Holland.
BIOGRAPHICAL DETAILS OF THE AIRCREW
1. F/L James Denholm Virtue was born in Toronto, Ontario, Canada, on February 25, 1916. Occupation, clerk, stenographer. Education- Leslie St. Public, Eastern High School of Commerce, General Business. Athletic activities and interests- softball, riding, tennis, rugby, swimming, skating, shooting and music.
Letter of Reference:

RHODES AVENUE UNITED CHURCH - TORONTO

I hereby certify that James D. Virtue, 69 Marjory

Avenue, Toronto, is well known to me; that he is a young man of excellent character, alert, intelligent and industrious.

I very highly recommend him for a place in the Royal Canadian Air Force, and believe that he will give to it thorough and satisfactory service.

D. Wallace Christie
Minister

R.C.A.F. General Medical and Surgical Examination

13/5/41: Physically fit, keen, alert- good motives- capable.
Would like to be a fighter pilot.
Should do well- satisfactory pilot material.

Service Record: 1 AMD Picton, 6 SFTS Dunnville ON, 1 ITS Toronto, 9 EFTS St. Catherines, Commissiioned 6/10/41, 7 BGS Paulson, 1 YD Halifax, 3 P.R.C. 13/9/43.

Rank- AC2 - 7 1 41
LAC - 9 6 41 P/O - 7 10 41
F/O - 1 10 42
F/L - 15 5 43

RCAF Report on Pupil Pilot- Flying and Ground Training

No. 1 I.T.S. May 3/41- Jul 6/41

Remarks: Clean-cut, steady type of trainee, with enough assurance and self-confidence coupled with enough initiative. Fine service spirit and ability to handle men. Should be an asset to the Service.
Applied himself very well. Commission material.
Second Aircrew Recommendation: Air Observer.

RAF Training Report

No. 23 Operational Training Unit 13.10.43- 27.12.43

Remaks: An ex-Staff pilot on B&G. No A.T.U. Course. Did very well on conversion at O.T.U. and is highly recommended for P.F.F. Will do well on ops. flying heavy bombers. Very experienced pilot with 1300 hours.

Overseas Service

23 O.T.U. - 12/10/43
1501 B.A.T. Flt. - 17/11/43
R.A.F. Stratford - 17/11/43
23 O.T.U. to 61 Base - 10/1/44
1659 C.U. - 23/1/44
419 Squadron - 28/2/44
405 Squadron - 30/4/44
2. Sgt. Patrick Neil Gilbert
3. F/O Joseph John Raymond Johnson was born in Tingwick, P. Q., Canada, on December 11, 1913. Occupation, clerk. Education, Luke Callahan, Mem. Montreal, Quebec, O'Sullivan's Business College Montreal, Canadian Legion Course- 10 wks. Athletic activities, skiing and golf.
Service Record:

5 M. Depot LaChine, 5 ITS Bellevue ON, 9 AOS St. Johns, 1 YD Halifax 17.4.43, Commission 2.4.43.

Promotions:

AC2 - 28.4.42
LAC - 5.12.42
Sgt. - 2.4.43
P/O - 19.4.43
F/O - 2.10.43

Overseas Record:

24 O.T.U. - 21.9.43
1659 C.U. - 23.2.44
419 Sqn. - 28.2.44
405 Sqn. - 30.4.44

RCAF Report on Pupil Air Navigators

Remarks: A good, hard working sincere airman. Good motivation. Not a leader but should make good aircrew.

No. 24 Operational Training Unit

Remarks of Navigation Officer: This navigator is above average in his plotting and log keeping and is very good in his D.R. work. His Astro practice on this course was handicapped by bad weather.

L. Archer S/Ldr.

4. P/O Vernon Fairbanks Dodds was born on October 5, 1920 in Winnipeg, Manitoba, Canada. Occupation, mechanic Eaton's Engineering Department. Education, Gladstone, Earl Grey, Kelvin, matriculation. Athletic interests, basketball, hockey and rugby.

Married to Eleanor May Dodds, age 22.

Service Record:

2 'M' Depot Brandon, 2 ITS Regina, 15 EFTS Regina, 1 RG Trenton, 7 BG, 7 AOS Portage La Prairie, No. 1 "Y" Depot Halifax NS July 9, 1943.

Promotions:

AC2 - 18.2.42
LAC - 7.11.42
Sgt. - 25.6.43
F/Sgt. - 25.3.44
P/O - 19.7.44

Overseas Record:

No. 1 AFU - 10.8.43
24 OTU - 21.9.43
61 Base - 10.1.44
419 Sqn. - 28.2.44
405 Sqn. - 30.4.44

5. F/O Anthony Gerard McCarthy

6. P/O Alfred Joseph Britz was born on November 4, 1915 in Humboldt, Saskatchewan, Canada. His parents had emigrated from St. Cloud, Minnesota, USA. With a history of German ancestry, the decision was made at the time of attestation to anglicise his surname in the event he was taken as a POW. His surname was changed to BRITTS for the duration of his service in the RCAF and appears as such on all of his subsequent military records including the CWGC.

Occupation, hotel clerk. Education, Taylor Public VIII grade diploma, Dept. of Education IX, X correspondence courses, Diesel Engineering and Lewis Hotel Training correspondence courses. Athletic interests, tennis, baseball, softball, golf and table tennis.

Married: Mrs. B.M.V. Britts.

Service Record:

2 AMD Penhold, 15 SF Claresholm, 3 WG Winnipeg, 5 BGS Dafoe, 3 WS Winnipeg, 7 AOS Portage La Prairie, No. 1 Y Depot Halifax NS, 1 Y D to RAF Training Pool.

Promotions:

AC2 - 6.6.41
LAC - 1.10.41
Sgt. - 22.6.42
F/Sgt. - 22.12.42
W/O II - 22.6.43
W/O I - 22.12.43
P/O - 19.7.44

Overseas Record:

10 AFU - 14.8.43
24 OTU - 21.9.43
1659 CU - 28.2.44
419 Sqn. - 28.2.44
405 Sqn. - 30.4.44

RCAF Report on Pupil Wireless Operator or Air Gunner (Air Gunner)

Remarks: Average student and gunner.

P.W. Holmes W/C
Chief Instructor No. 5 BGS.

7. Sgt. Thomas Davenport

8. F/O Michael Stanley Stoyko was born on 6th August, 1915 in Winnipeg, Manitoba, Canada. He enlisted in the RCAF in May 1942 and was posted overseas to the United Kingdom in September 1943. He was the sole survivor of the crash during the night of 21/22 July, 1944. This operation was to be his last before tour expiring!

During his time in hiding as an evader in Tubbergen, he made catapults, whirligigs and other woodwork toys. He was convinced that the next newborn conceived at the farm would be a boy, as all previous offspring had been girls.

Three weeks after returning to Canada he married Helen. They were blessed with a son and three daughters.

He was employed by Canada Post. Several months after retirement he died from postoperative complications, on Good Friday, 12th April, 1979.

BURIAL DETAILS

1. F/L James Denholm Virtue son of James Robert and Janet D. Virtue of Toronto, Ontario, Canada. Buried at Tubbergen Roman Catholic Cemetery, Grave 10.

His epitaph reads:

Rest in peace

2. Sgt. Patrick Neil Gilbert son of Charles Edward and Ellen Gilbert of Chaddesden, Derbyshire. Buried at Tubbergen Roman Catholic Cemetery, Grave 7.

His epitaph reads:

Through hill and valley

Every breeze

Had sunk to rest

With folded wings

3. F/O Joseph John Raymond Johnson buried at Tubbergen Roman Catholic Cemetery, Coll. Grave 7.

No epitaph.

4. P/O Vernon Fairbanks Dodds son of William E. and Doris E. Dodds of Winnipeg, Manitoba, Canada. Buried at Tubbergen Roman Catholic Cemetery, Coll. Grave 7.

No epitaph.

5. F/O Anthony Gerard McCarthy buried at Tubbergen Roman Catholic Cemetery, Grave 9.

No epitaph.

6.P/O Alfred Joseph Britts buried at Tubbergen Roman Catholic Cemetery, Coll. Grave 7.

No epitaph.

7. Sgt. Thomas Davenport son of Thomas and Alice Davenport; husband of Gwendoline Davenport, of Coventry. Buried at Tubbergen Roman Catholic Cemetery, Grave 8.

His epitaph reads:

Thy will be done, O Lord

AUTHOR'S NOTES

This archive report evolved from the intention of finalising the Aircrew Remembered archive report on the loss of my uncle's Lancaster and crew during the March 24/25, 1944 Berlin raid: 625 Squadron ND641, CF-T. They fell victim to then Oblt. Martin Drewes, abschuss 16, and six of the crew were buried at the Tubbergen Roman Catholic Cemetery. The addition of the seven members of F/L Virtue's crew in July 1944 brought the total to thirteen airmen of Bomber Command, a mix of RAF and RCAF serviceman, laid to rest in an impressive row in the centre of the Cemetery—all attributed to the prowess of Hptm. Drewes.

Mark Veldhuis, a Tubbergen schoolteacher, is a volunteer at the Holten Canadian War Cemetery and encourages his students to present speeches at the Dutch Remembrance Day commemoration, recognising the sacrifices made by foreign servicemen in the liberation of their country. In addition these students maintain the Tubbergen Cemetery headstones in immaculate condition. Each year, on Dutch Remembrance Day and Christmas Eve, Mark lights a candle at each of the graves in the Cemetery. He has maintained contact with the families of both crews around the globe. Recently he has agreed to receive and display the wartime memorabilia of the crew of ND641. We are most grateful to Mark for his kindness and consideration in preserving the memory of loved ones. It is apparent that the citizens of Holland have a greater understanding of the reality of the horrors confronted by those who failed to return to their homelands.

Graves of the crewmen of Lancasters ND641 and PB174 at the Roman Catholic Cemetery of Tubbergen. l. to r. PB174, ND641. Christmas Eve 2019. Courtesy M. Veldhuis.

Diorama dedicated to the memory of the crews buried in the Tubbergen RC Cemetery. Courtesy M. Veldhuis.

Post war newspaper clipping of Michael Stoyko with Nazi armband and service ribbons. Courtesy M. Veldhuis.

The details of the loss of Lancaster PB174 exemplify just how unpredictable the fickle finger of fate could be during the ebb and flow of operational flying in Bomber Command.

F/L Virtue and his crew were very experienced, on the verge of tour expiring. He was obviously a capable Skipper with a crew who had confidence in his skill and leadership. F/O McCarthy was not a regular member of the crew and would have given them the advantage of an extra pair of eyes to scan for night fighters.

Taking into account the mechanics of the encounter with Hptm. Drewes, it is unlikely that there was any chance of PB174's crew of detecting his sudden unexpected interception. His approach from the starboard side, shielded by that wing, would have made his approach invisible to any member of the crew with their visual scans focused fore and aft of their flight path. The only factor that could have saved F/L Virtue and his crew was if the crew of the Bf 110 G-4 was a novice one and unable to react in time to drive home an instantaneous attack as carried out by Hptm. Drewes.

It is quite likely that the abrupt bank to port was a planned heading change to put PB174 on final course to the target, not an evasive manoeuvre. This is supported by Sgt. Stoyko's account that the explosion was sudden and unpredicted, without warning by any of his crew. The fact that the accidental burst into PB174's loaded bomb bay was at such close range had catastrophic and irreversible consequences for all involved. It is mind boggling that anyone survived, taking into account the proximity of the bomb load detonation that included a 4,000 pound 'Cookie', also known as a 'Blockbuster' for obvious reasons: it had the explosive force to flatten anything within a block radius! From the specifics of the loss of PB174 and Hptm. Drewes' Bf 110 G-4 we are quite certain no crew member was more than one hundred feet from the centre of the explosion. It was nothing short of a miracle that the three crew members of the night fighter and in particular Sgt. Stoyko survived without major injury. There can be no doubt that Sgt. Stoyko's life was saved by the last minute decision to swap turrets with Sgt. Davenport. The alternate scenario would have resulted in the loss of the entire crew of PB174 as Sgt. Davenport would have found himself in a separated turret, sans parachute.

In his post-liberation evader's report, Sgt. Stoyko made the following remark: "I saw the enemy plane catch fire from the explosion and the three German crew baled out safely." This statement is quite remarkable from many perspectives. It is amazing that he was not rendered unconscious and had presence of mind to realize that they had been the victim of a night fighter, attacking from below. In addition he had the vantage point of overseeing these events unfold in bright moonlight, with the fighter being blasted earthward by the explosion of their bomb load. The parachute canopies of the German aircrew would have shielded him from their field of vision and their attention would have been focused on the flaming debris of their victim —all contributing factors to Sgt. Stoyko becoming an evader and not a POW! These events would also have confirmed in his mind that none of his crew mates could have survived. His was the sole parachute that descended from the explosion of PB174!

It is noteworthy that if all eleven airmen had perished in this encounter or Sgt. Stoyko was the sole survivor, then the eye witness account of these two losses would have been attributed to a mid-air collision. This makes one consider just how many quirks of fate occurred with losses in which no-one survived to bear witness. This brings to mind the miraculous survival of experienced pilot, F/L Joe Herman, of 466 RAAF Squadron Driffield on his thirty-third op.

F/L Herman and his crew were detailed to attack Bochum and the Dortmund-Ems Canal on the evening of 4/5 November, 1944. On the bomb run, coned twice by searchlights and inundated with upcoming flak, he ordered his crew to clip on their chutes, neglecting to do so himself.

After bomb release he turned southeast to initiate a descent from 18,000 down to 10,000 feet, when a flak burst hit the fuselage, both wings and fuel tanks of their Halifax, D- Dog. Within seconds the mainplane was ablaze from roots to tips.

Without hesitation F/L Herman gave the order: "Bale out, bale out, bale out!". He held the aircraft steady enabling all but three to jump from the escape hatches. He found himself in an unresponsive kite with mid-upper gunner, F/Sgt. John Vivash and flight engineer, Sgt. Harry Knott. F/Sgt. Vivash had suffered flak leg wounds.

As he was reaching for his chute, F/L Herman observed the starboard wing fold back in a "blowtorch-like burst of blue, fuel-fed fire" and the aircraft rolled onto its back. As he braced himself against the cockpit roof, the bomber exploded in a rush of flame, ejecting him into the night—without his chute!

He found himself plunging through the freezing air in a shower of debris. For a moment he wondered if he could perhaps find his parachute pack among it, then realised all hope was useless. Under a three-quarter moon, effortlessly, even to his senses apparently slowly, he tumbled above the pale chill of the countryside, performing a macabre ballet between stars and landscape as hundreds of doomed bomber boys, similarly helpless, had done before him. Herman plunged and pirouetted in the night. waiting for the inevitable. He felt detached from the globe and sky, a speck in oblivion. Far below the River Ruhr gleamed silver in the moonlight then disappeared as he rotated, seemingly without fear or friction, once more. Beyond him the crazed, multi-coloured epicentre of the target glowed, sparkled and pulsated in the dark and the last of the searchlights stretched down and died. A prayer turned in his mind as he whirled, expressively floating between heaven and earth. It was peaceful now, away from the scorching fire and the creaking, crashing, roaring mayhem of the bomber in its lurch of death. There was no sensation of speed, just a clean cold as the young Australian plummeted earthward at a terminal velocity of 120 miles per hour.

With a bone-jarring thump Herman made impact. In reflex action his arms shot forward to save himself and he found himself hanging, no longer twisting. There then followed one of the most bizarre conversations in the history of the war. Herman heard F/Sgt Vivash call out, 'Is there anybody around?' The pilot looked up, realised there was a fully open parachute above him, and replied succinctly, 'Yes, I'm down here.' Vivash then asked, 'Where, where are you?' Herman told him. 'Here, hanging on to your legs.' Recounted by Kevin Wilson, Journey's End, Bloody Bochum, pp. 74-77. (Add link to LM513, Addendum 2- The Chop)

F/L Herman, F/Sgt. Vivash and Sgt. Knott survived the war as POWs. F/Sgt. Vivash died in a motorcycle accident shortly after returning to Australia. Sadly, the four crew members who successfully baled out were buried in Neviges and reinterred in the Reichswald War Cemetery. Their mysterious deaths remain unexplained. It is almost incomprehensible that the four who baled out perished, yet the three exploded into the night, one without his chute, survived to see war's end.

This incredible experience provides opportunity to ponder the thought processes during that final fall to earth of a multitude of Bomber Command aircrew. One can only hope that the majority were mercifully rendered unconscious or already deceased.

The fact that PB174 included an eight man crew and the incredible destructive forces to aircraft and crew most likely contributed to Sgt. Stoyko managing to evade rather than becoming a POW. The difficulty in recovering and identifying the crew of PB174 would have convinced the Germans that this was a seven man crew without survivors. It would have been critical that Sgt. Stoyko properly disposed of his parachute by burial or gifting to his Dutch hosts.

However, what was advantageous to Sgt. Stoyko was a distressing problem for the RAF and RCAF officials and in particular the families of the four crew members who perished, were unidentified and buried in a grave marked as an unknown airman. Unfortunately, the mental anguish endured by these families was unpreventable despite Sgt. Stoyko's statement that he had been informed by the Dutch that the grave in question contained the remains of the four unidentified crew members. It was not until 1948, after MREU exhumation results confirmed this, that the families could finally come to grips with their losses.

It is incomprehensible too that Sgt. Stoyko survived the events of the early morning of July 21, 1944 with the most notable injury of a lost flying boot. He then lived the life of relative luxury as an evader for the next nine months, not having to face the unrelenting stress of operational flying. He visited the graves of his comrades before liberation. One can only wonder if he suffered from survivor guilt. It is noteworthy that there was a sole survivor from each of two crews buried at Tubbergen: Sgt. Stoyko from PB174 and W/O II Frank Magee, bomb aimer of ND641. I had the privilege of knowing Frank for twenty years and am quite certain that he did not suffer from this affliction. Interestingly, Frank and Martin Drewes lived into their early nineties and Michael Stoyko died in his mid-fifties.

Martin Drewes survived the war credited with forty-eight victories of Allied aircraft, five by day and forty-three by night. As a result an estimated two hundred and fifty young men failed to return to their homes and families. If not for the events of the evening of July 21/22 it is quite likely that he would have continued to run up his number of victories. One has to consider the possibility of him suffering from post traumatic stress disorder contributing to his slow recovery and victory slump. By this stage of the war the final outcome would have been obvious to him.

It is worth noting that the tragic loss of PB174 with F/L Virtue and six of his crew was not totally in vain. It did after all, remove Hptm. Drewes as a significant threat for the rest of the war. By extrapolation one could predict that this meant that one to two dozen Bomber Command aircrews would survive to war's end, to return to their families and live their lives out.

During the May 12/13, 1944 raid on the railway yards at Louvain, Belgium, Hptm. Drewes was the claimant for the loss of three heavy bombers, Lancaster KB710 of 419 Squadron RCAF (7 KIA), Halifax III MZ629 of 431 Squadron RCAF (6 KIA, 1 evader) and Halifax III LW682 of 426 Squadron RCAF (8 KIA) at 01.09 hrs.

LW682, piloted by P/O Wilbur Boyd Bentz, crashed into a swamp at Schendelbeke, Belgium. Due to soft terrain the Germans were able to recover only five of the crew for burial. The three remaining Canadian crew members were left entombed in their aircraft for the next fifty-three years.

As a result of persistent interest and research by P/O Bentz's nephew, a plan to locate and excavate the crash site to recover the crew remains and key components for a Halifax restoration project in Trenton, Ontario, Canada, was put into action. Participants included Halifax 57 Rescue (Canada), the Belgian Aviation History Association (BAHA) and 426 Squadron Association, with critical funding by Canadian Heritage and Veteran's Affairs Canada.

On September 6, 1997, after two weeks to pump the site dry, excavation resulted in recovery of the missing airmen, personal effects and components of LW682, including its single 50 cal. ventral machine-gun.

A burial with full military honours took place on Monday, November 10, 1997, attended by relatives of the fallen airmen, Canadian airmen, the Canadian Minister of Veteran's Affairs and many spectators. A Canadian Air Force Colour Party presented the 426 Squadron Standard. Reverend Harry Schmuck, Association chaplain led the gathering in prayer and 426 Squadron Association President, LtCol. L Motiuk (ret'd), delivered the eulogy, closing with words of the Kohima prayer:

And when you go home tell them this of us and say:
That for their tomorrow we gave our today.

Martin Drewes had travelled from his home in Brazil to salute his fallen enemies. Under the circumstances it is understandable that his presence was met with mixed emotions.

Halifax LW682- Funeral Service. r. Martin Drewes. Courtesy users.telenet.be The recovery of Halifax LW682

Finally the remains of P/Os Bentz, Summerhayes and Roach were laid to rest beside their comrades in the Geraardsbergen (Grammont) Communal Cemetery, Belgium.

At the conclusion of the ceremony three Belgian Marchetti SM260s performed a flypast in the missing man formation.

This was our main goal: The crew of Halifax LW682 is completed again: They trained together, they flew together, they fought together, they died together. Now they will rest together.

In November 1997 a Canadian C-130 Hercules landed at night at the Belgian military airport at Melsbroek. After the major components of LW682, including the undercarriage were loaded aboard, they departed in darkness, for her final flight.

Halifax LW682- Aluminium ingots in a CAF C-17 en route to London, England and the Bomber Command Memorial. Courtesy bombercommandmuseum.ca

LW682 Prop blade/Aluminium ingot. Courtesy Dave Birrell BCMC librarian.

The Legacy of Halifax LW682. Courtesy Dave Birrell BCMC librarian.

Most symbolically the aluminium from the wreckage of LW682 was incorporated into the geodetic patterned roof supports in the Bomber Command Memorial in London, England. In addition this recycled element has also been used in numerous Bomber Command memorial plaques in Canada, England and the United States, including the base for the new totem pole at the Dishforth building.

It is noteworthy that the eighth member of P/O Bentz' crew was a second mid-upper gunner whose role was to man the ventrally mounted 50 cal. machine gun. This was intended as a countermeasure to the deadly Schräge Musik weapon system. With the loss of LW682 it is apparent that this rookie crew was no match for the prowess of a Nachtjagd ace.

Serendipitous propinquity-cubed over three decades!
—Klaassen, Veldhuis, Albrecht. JEA

REFERENCES:

405 Squadron RCAF Operational Record Book.
Zij kwamen bij dag en bij nacht, Martin Klaassen.
Library and Archives Canada/ancestry.ca website.
Commonwealth War Graves Commission website.
The Bomber Command War Diaries, Martin Middlebrook and Chris Everitt.
Nachtjagd War Diaries Volume Two, Theo Boiten and Rod MacKenzie.
Bomber Command Museum of Canada. Karl Kjarsgaard, Director.
Aircrew Remembered Archive reports.
Journey's End, Bloody Bochum, pp. 75-77, Kevin Wilson.

zij kwanen bij dag en bij nacht—They came by day and by night (1990), by Martin Klaassen

CO-AUTHORS:

John Naylor
Maureen Hicks
Reg Price DFC
Mike Edwards

Submission by Mark Veldhuis, Martin Klaassen and Jack Albrecht.
© 2004-2021 John Albrecht